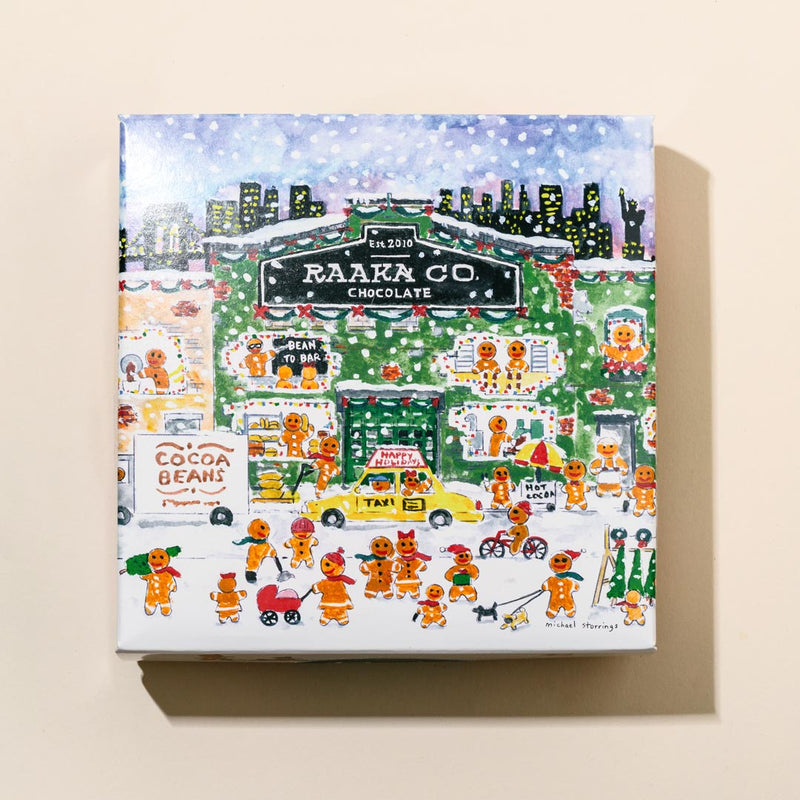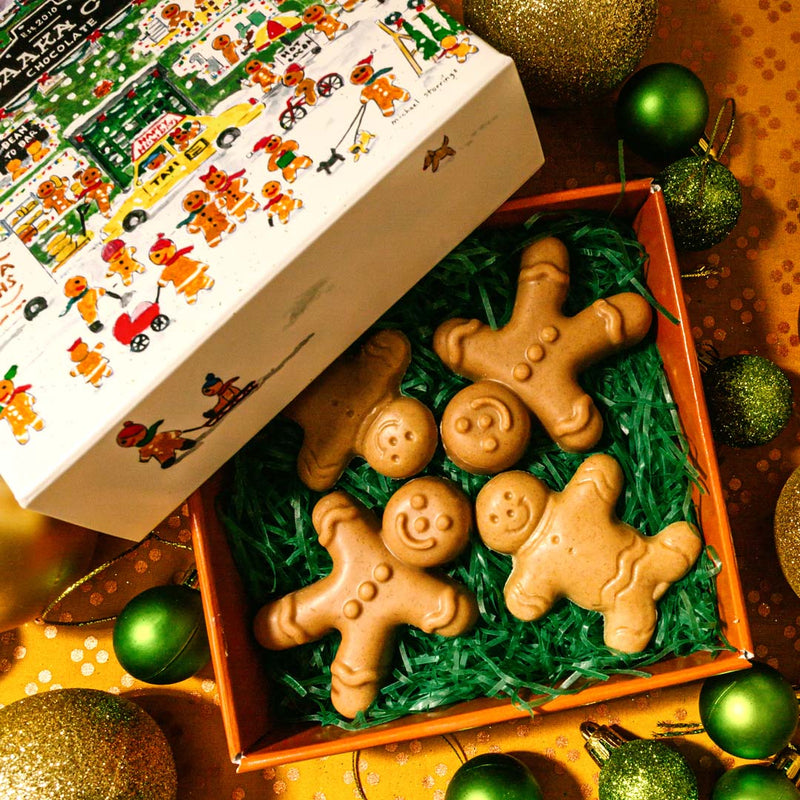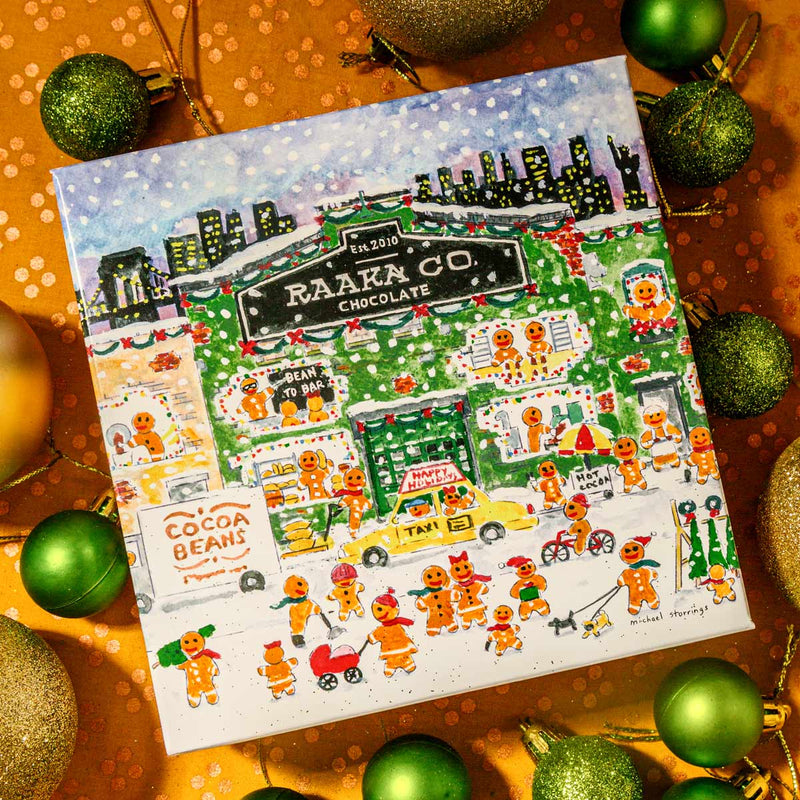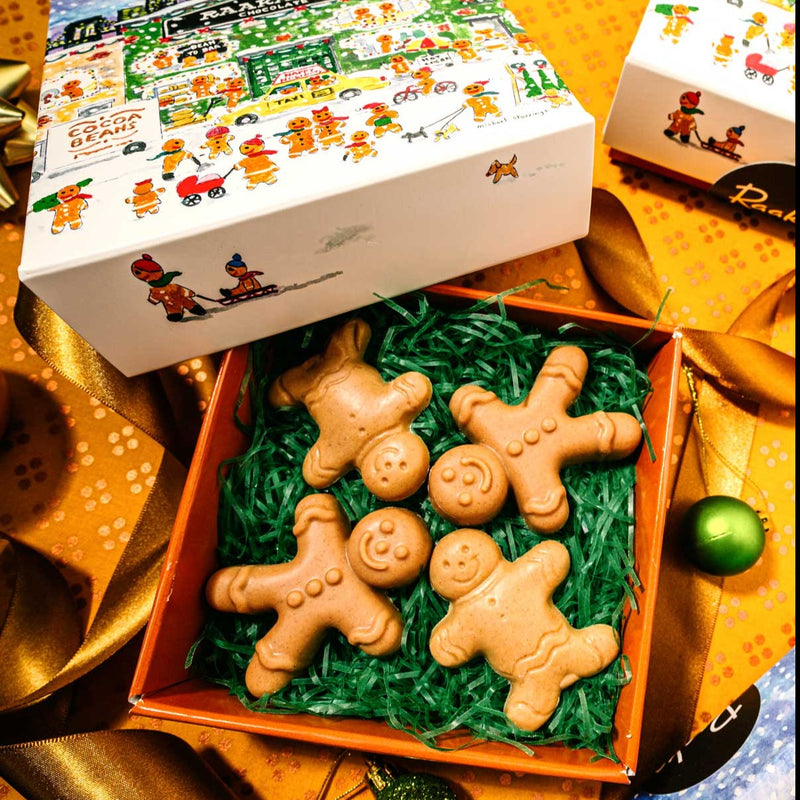 On Sale
Gingerbread Family Limited Edition Box
Give a warm holiday welcome to our Gingerbread Family: four super cute gingerbread people made of our vegan white chocolate infused with ginger, cinnamon, and nutmeg. Each bite evokes a warm kitchen full of freshly decorated holiday cookies, no oven required. You could say it's our take on a holiday cookie tin.
We're especially proud to share this enchanting limited edition holiday box designed by artist and author Michael Storrings, featuring our gingerbread people scattered throughout our factory. Needless to say, he made our factory look magical. Can you spot all the different chocolate making steps?
Like those holiday cookie tins, we don't expect these to stick around for long…

Box contains two Gingerbread Parents (approx. 30g) and two Gingerbread Children (approx. 13g).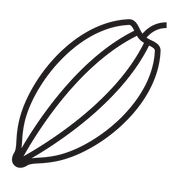 UNROASTED
We make our chocolate with unroasted cacao beans so you can taste the naturally fruity flavor of cacao.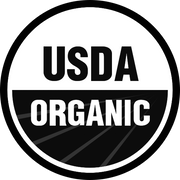 ORGANIC
All of our chocolate is certified organic, certified non-gmo, kosher, and free of gluten, dairy, peanuts, and soy.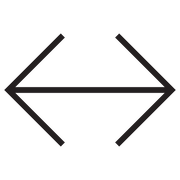 TRANSPARENT TRADE
We source our cacao directly from single estate farms, farmer owned cooperatives, and grower centered organizations.
Ingredients
organic cacao butter,
organic cane sugar,
organic coconut milk powder,
organic tapioca flour,
organic brown rice syrup,
organic ginger,
organic cinnamon,
organic nutmeg,
sunflower lecithin
Amount Per Serving
Calories: 130,
Total Fat 10g (15%DV),
Sat. Fat 8g (39% DV),
Trans Fat 0g,
Cholest. 0mg (0% DV),
Sodium 2mg (0% DV),
Total Carb. 10g (3% DV),
Fiber 0g (2% DV),
Total Sugars 7g (Incl. 7g Added Sugars, 13% DV),
Protein 1g,
Vit. D (0% DV),
Calcium (0% DV),
Iron (5% DV),
Potassium (0% DV).
Nutrition Facts
Servings: 4
Serving size: 1 person (21g)
37% CACAO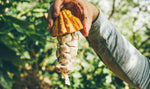 Transparent Trade
We started Raaka because we knew there was a better way to make chocolate: from scratch. We use traceable, high quality, single origin, transparently sourced cacao to craft uncommonly delicious chocolate.
FAQs
What does unroasted mean?

Cacao beans are the seeds of the cacao fruit, harvested and prepared by producers at origin. Every bean has a flavor profile shaped by the soil and climate it grows in, as well as the care each producer takes in cultivating and processing it. This fruity flavor is often roasted away in favor of that classic chocolatey note. We love this fruit-forward flavor, and we make our chocolate without roasting so you can enjoy it too.
Is this chocolate vegan?

You bet. All our bars are 100% vegan. Some dark chocolates still contain milk powder, but ours do not. Instead, we make a couple vegan "milk style" bars with oats and coconut.
What does this chocolate taste like?

Every recipe we make is inspired by the unique flavors of whatever bean we're working with. If you're curious about a specific flavor, check out the flavor page and the reviews! If you still need help, feel free to email us.
How do you ship chocolate when it's hot outside?

Don't fret, we check the weather before mailing every order. If it's going to be hotter than 70 degrees, we use insulation and ice packs to ensure you receive your chocolate in perfect condition!