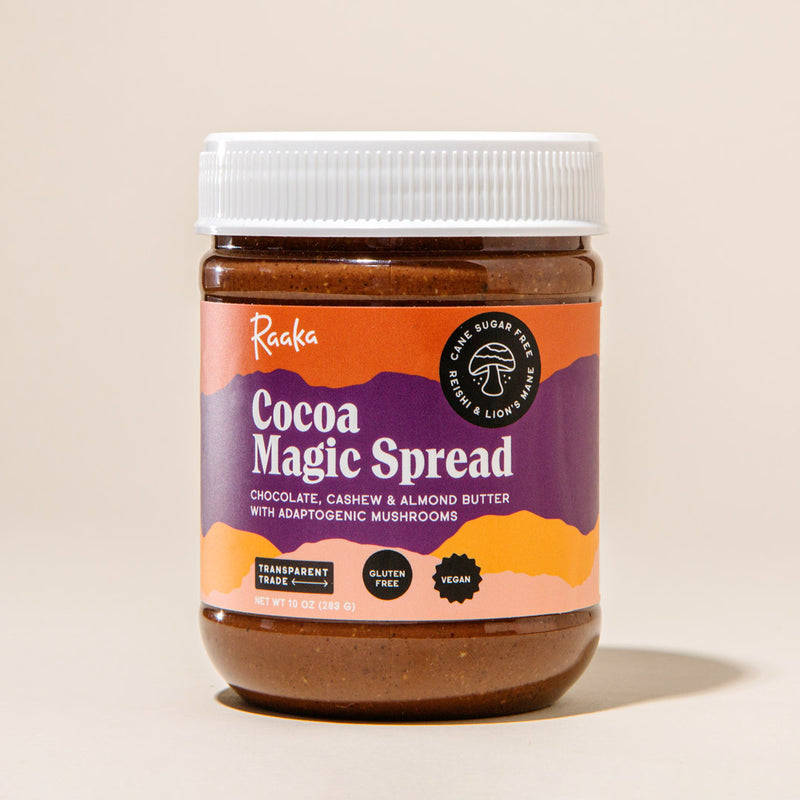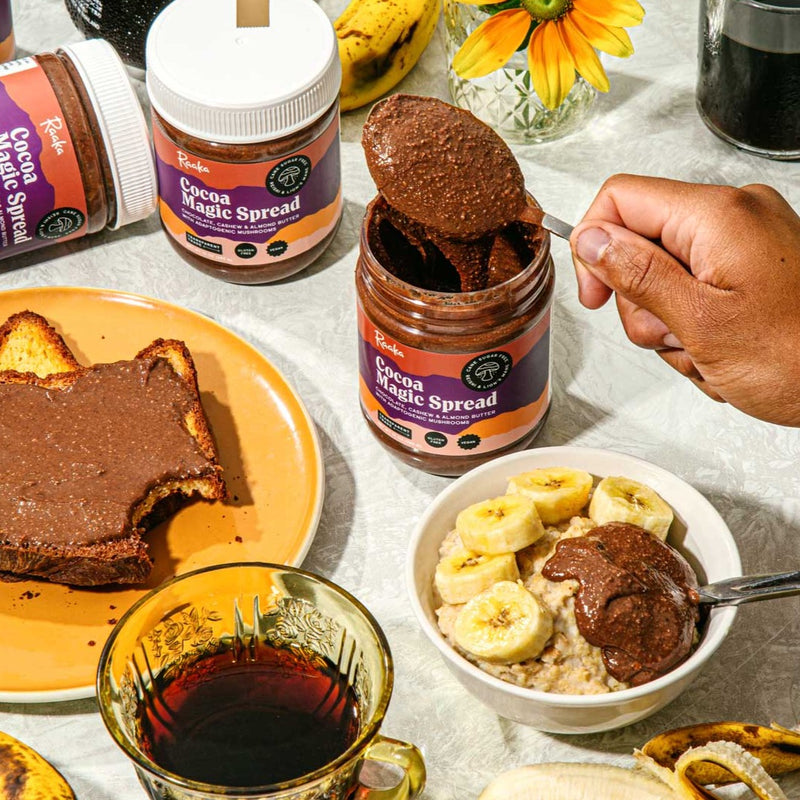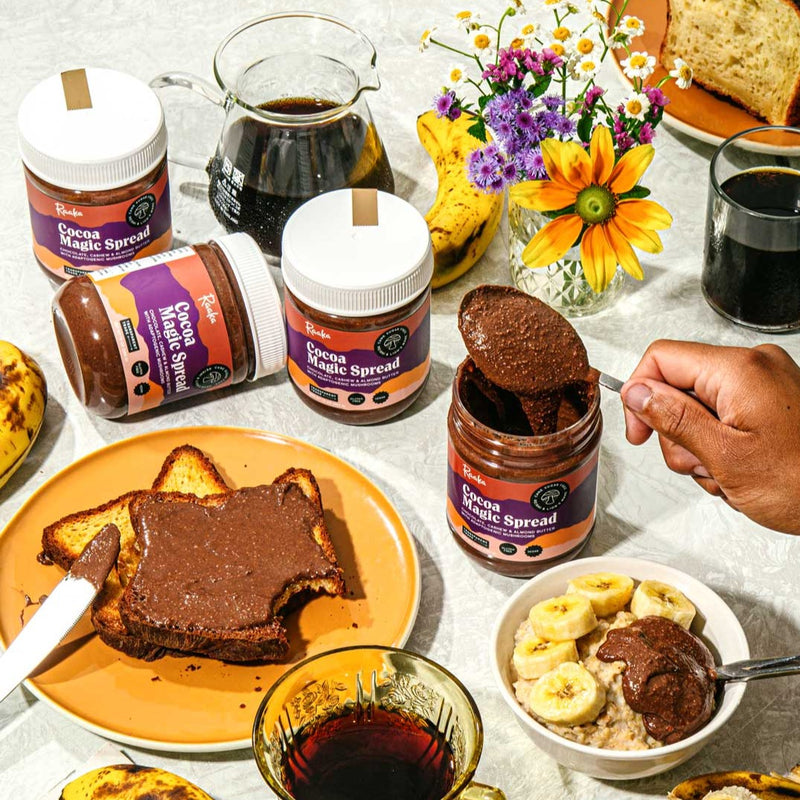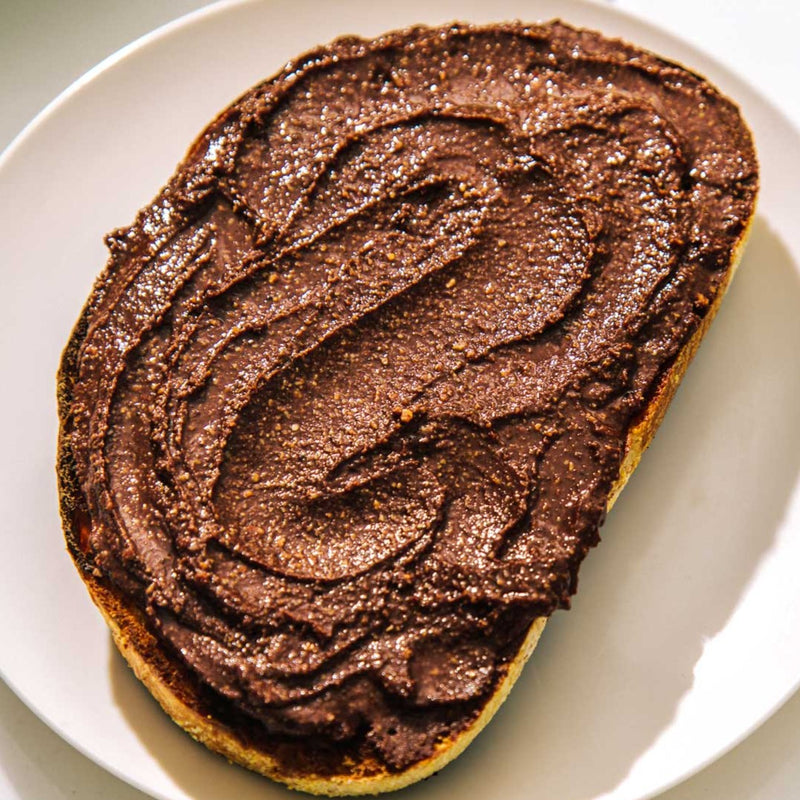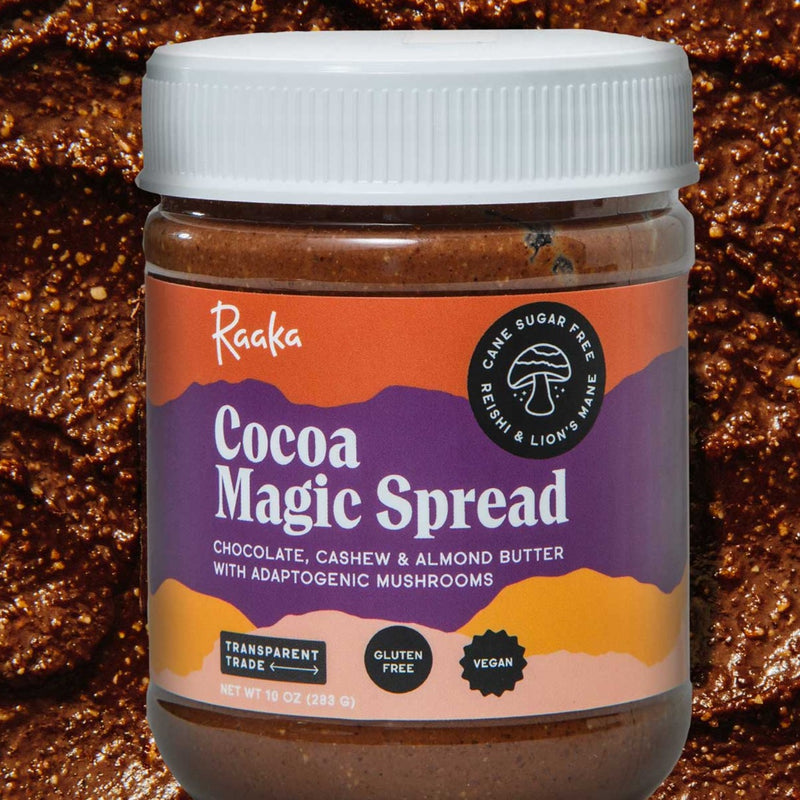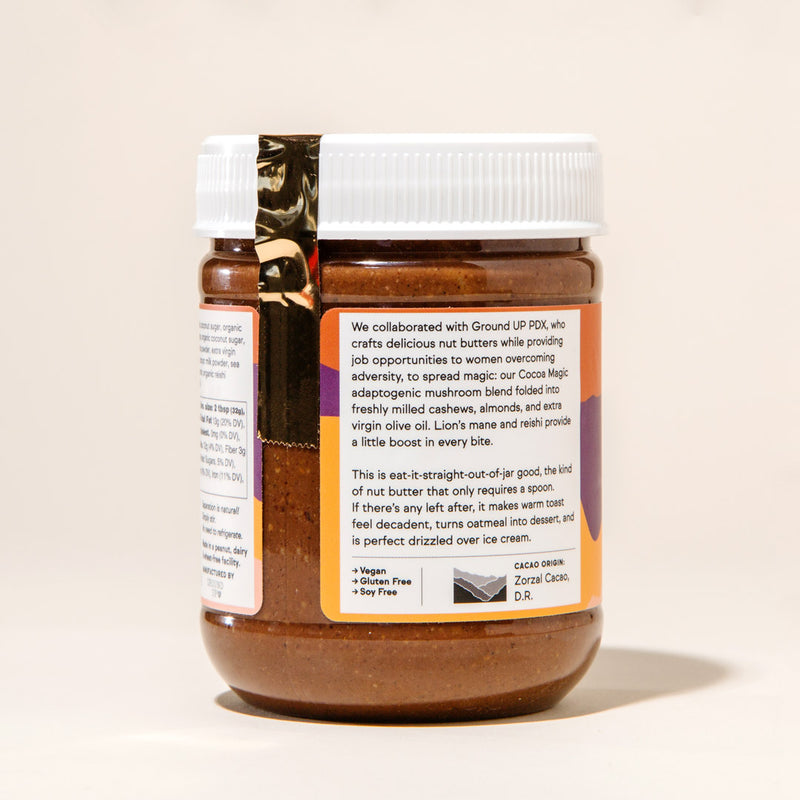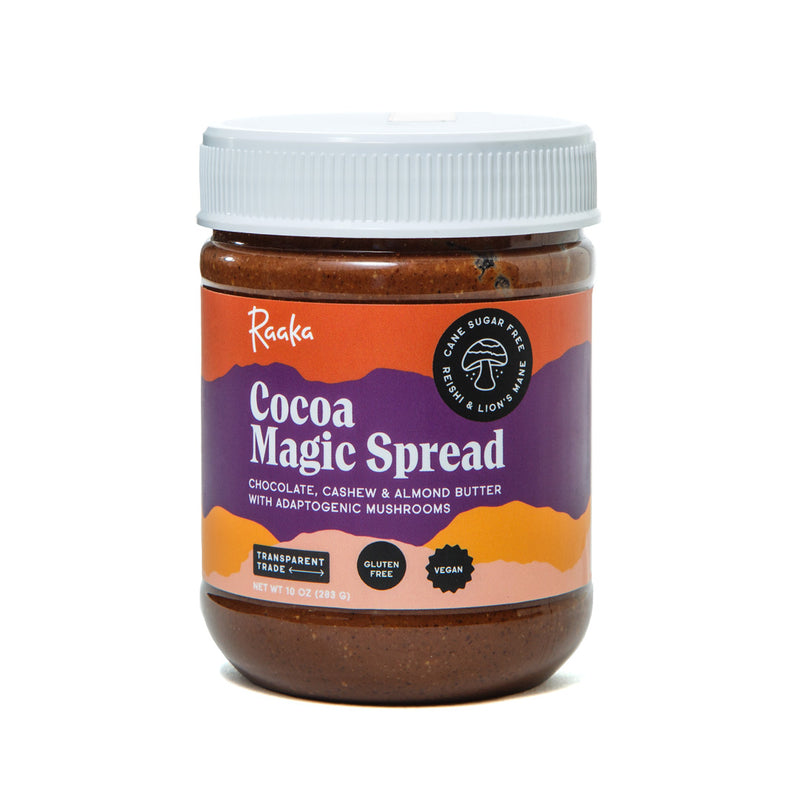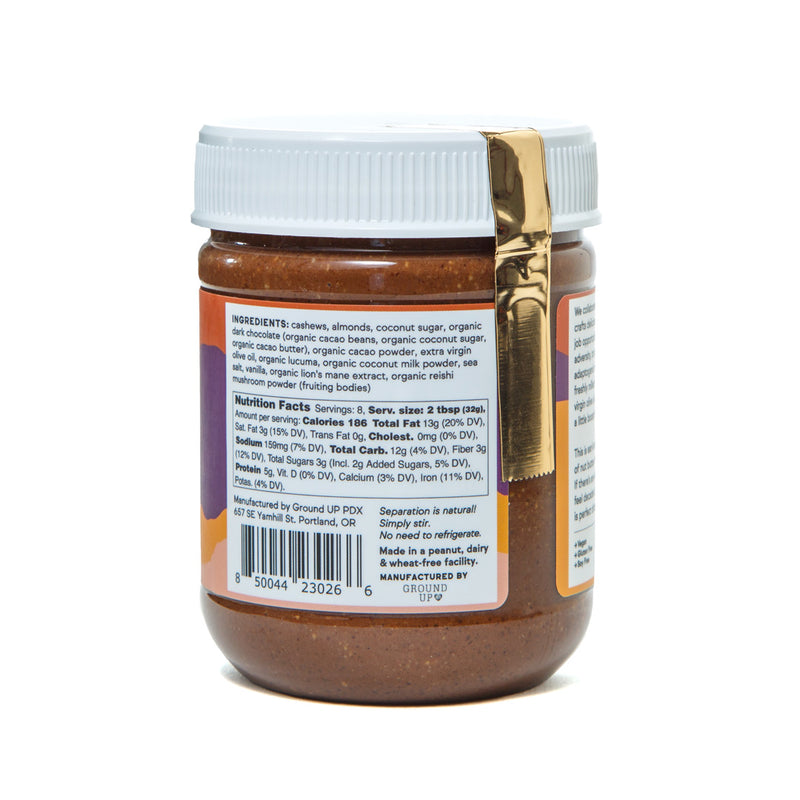 On Sale
Cocoa Magic Spread
CHOCOLATE, CASHEW & ALMOND BUTTER WITH ADAPTOGENIC MUSHROOMS
We collaborated with GroundUp PDX to spread magic: our Cocoa Magic adaptogenic mushroom blend, folded into freshly milled cashews, almonds, and extra virgin olive oil, churned into a creamy, slightly crunchy, coconut sugar-sweetened chocolate nut butter. Lion's mane and reishi provide a little boost in every bite.
This is eat-it-straight-out-of-jar good, the kind of nut butter that only requires a spoon. If you make it any further, it makes warm toast feel decadent, turns oatmeal into dessert, and is perfect drizzled over ice cream.

Made in a peanut, dairy, and wheat-free facility. Separation is natural. Stir well and enjoy! No refrigeration is necessary.

Size: 10oz Jar

Origin
Zorzal Cacao, Dominican Republic
Ingredients
cashews,
almonds,
coconut sugar,
organic dark chocolate (
organic cacao beans,
organic coconut sugar, 
organic cacao butter),

organic cacao powder,
extra virgin olive oil,
organic lucuma,
organic coconut milk powder,
sea salt,
vanilla,
organic lion's mane extract,
organic reishi mushrooms.
Amount Per Serving
Calories: 186,
Total Fat 13g (20%DV),
Sat. Fat 3g (15% DV),
Trans Fat 0g,
Cholest. 0mg (0% DV),
Sodium 159mg (7% DV),
Total Carb. 12g (4% DV),
Fiber 3g (12% DV),
Total Sugars 3g (Incl. 2g Added Sugars, 5% DV),
Protein 5g,
Vit. D (0% DV),
Calcium (3% DV),
Iron (11% DV),
Potassium (4% DV).
Nutrition Facts
Servings: 8
Serving size: 2 tbsp (32g)
What We Pay for Cacao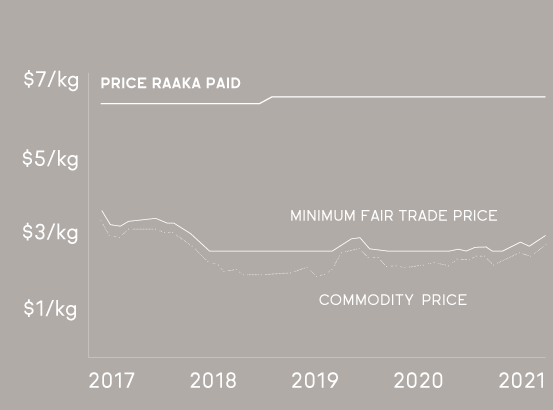 Zorzal Cacao, Dominican Republic
REGION/COUNTRY: Duarte Province, Dominican Republic
TYPE: Farm, fermentary, exporter, bird sanctuary
BEAN SOURCE: Blend of estate-grown and neighboring farms
FLAVOR PROFILE: Balanced, fruity, nutty
PRICE RAAKA PAID IN 2021: $6.40 per kg. This price includes post-harvest processes and transportation to the departure port. What we pay each producer is different and is shaped by that region's economy.
FARMGATE PRICE: $2.90/kg is what Zorzal paid neighboring farmers for dried cacao in 2019. This was 45% above the local market price. Visit our Transparent Trade page for context and more on the impact each producer has within their community.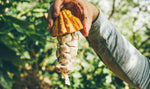 Transparent Trade
We started Raaka because we knew there was a better way to make chocolate: from scratch. We use traceable, high quality, single origin, transparently sourced cacao to craft uncommonly delicious chocolate.
FAQs
What do I eat Cocoa Magic Spread with?

Some of our favorite ways to enjoy this spread include on warm toast, mixed into oatmeal, on fresh fruit, or drizzled over ice cream. The possibilities are endless!

Does this taste like mushrooms?

Just like our Cocoa Magic Hot Chocolate, the adaptogenic mushrooms add a very subtle flavor. We think this spread tastes like an almond butter cup flipped inside out: fresh roasted almonds meet you at the front, followed by creamy, mellow chocolate and toasty coconut sugar.
Why is there oil at the top of the jar? Is it safe to eat?

Because this spread is all natural, with no emulsifiers, fillers, or palm oil, separation between the oil and nut butter is natural. Give it a quick stir and enjoy!
Does this need to be refrigerated?

Refrigeration is entirely up to you and your preferences! Once opened, Cocoa Magic Spread does not need to be refrigerated.
I thought Raaka was nut-free?

Good news, we still are! The only nut processed in our factory remains coconut! We partnered with our friend at GroundUp PDX to produce this delicious spread. The nut butter is produced in a facility that is peanut-free, dairy-free, gluten-free and soy-free. Our Cocoa Magic spread comes to us fully sealed and is handled separately from our other products, so you can rest assured that our factory remains friendly to those with tree-nut allergies.