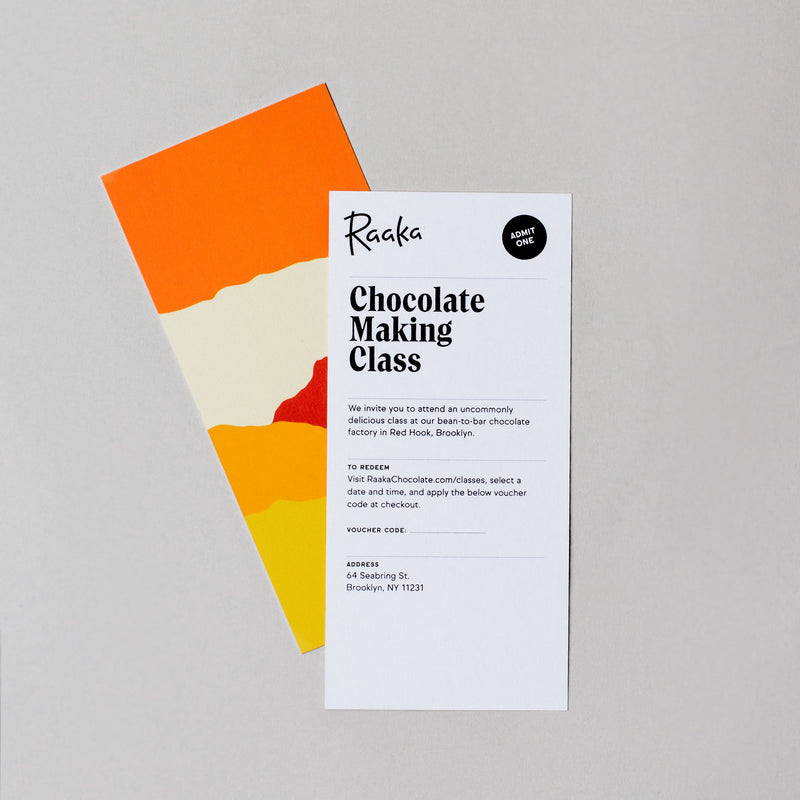 On Sale
Gift Card: Choose Your Own $60 Experience
Give the gift of a one-of-a-kind chocolate experience at the Raaka factory with this choose-your-own-adventure gift card.

This is the perfect gift option for someone who loves getting creative, celebrating different seasons and holidays, or likes getting to choose their own experience! Choose from any of our seasonal class offerings:
Coffee & Chocolate Tasting Experience: Together we'll taste 3 different single-origin coffees paired along with our single-origin dark chocolates. You'll learn about key flavor profiles of coffee and chocolate, how to maximize the sensory experience of chocolate and coffee, and how to interpret aromas, textures and flavors.
Chocolate & Beer Tasting Experience: You'll learn about key flavor profiles of floral teas, how to maximize the sensory experience of chocolate and teas, and how to interpret aromas, textures, and flavors.

Your gift recipient will receive a physical gift card in the mail to redeem. The gift card will have a unique code that the recipient will be able to redeem on our booking website. The gift recipient will be able to choose which date and time works best for them.


Note: Classes take place in person at our factory in Red Hook, Brooklyn. Age minimums vary from 8+ to 21+ depending on the class. Children under the age of 18 must be accompanied by a ticket holding adult in all classes. Learn more about our Chocolate Classes here.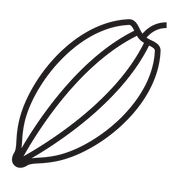 UNROASTED
We make our chocolate with unroasted cacao beans so you can taste the naturally fruity flavor of cacao.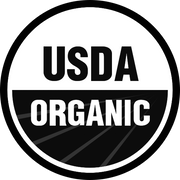 ORGANIC
All of our chocolate is certified organic, certified non-gmo, kosher, and free of gluten, dairy, peanuts, and soy.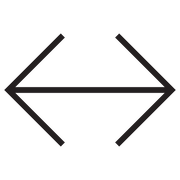 TRANSPARENT TRADE
We source our cacao directly from single estate farms, farmer owned cooperatives, and grower centered organizations.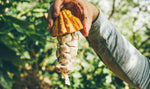 Transparent Trade
We started Raaka because we knew there was a better way to make chocolate: from scratch. We use traceable, high quality, single origin, transparently sourced cacao to craft uncommonly delicious chocolate.
FAQs
What does unroasted mean?

Cacao beans are the seeds of the cacao fruit, harvested and prepared by producers at origin. Every bean has a flavor profile shaped by the soil and climate it grows in, as well as the care each producer takes in cultivating and processing it. This fruity flavor is often roasted away in favor of that classic chocolatey note. We love this fruit-forward flavor, and we make our chocolate without roasting so you can enjoy it too.
Is this chocolate vegan?

You bet. All our bars are 100% vegan. Some dark chocolates still contain milk powder, but ours do not. Instead, we make a couple vegan "milk style" bars with oats and coconut.
What does this chocolate taste like?

Every recipe we make is inspired by the unique flavors of whatever bean we're working with. If you're curious about a specific flavor, check out the flavor page and the reviews! If you still need help, feel free to email us.
How do you ship chocolate when it's hot outside?

Don't fret, we check the weather before mailing every order. If it's going to be hotter than 70 degrees, we use insulation and ice packs to ensure you receive your chocolate in perfect condition!