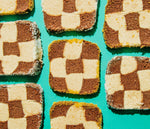 One of our favorite flavors to pair with our chocolate is tahini, so of course we had to come through with a holiday-perfect tahini and chocolate cookie. We wanted to make a festive cookie with a look that is one of a kind, and familiar, indulgent, flavors that evoke instant coziness and bring you home with every bite. In comes our checkered shortbread cookie. A melt-in-your-mouth rich cookie that is sure to bring a unique character to any holiday table, fireside snack board or gifting cookie box.
Ingredients:
Plain Dough
¼ c sugar
6 tablespoons vegan or dairy butter
3 tablespoons tahini
1 cup flour
pinch of salt
1/2 teaspoon vanilla
Chocolate Dough
¼ cup sugar
6 tbsp vegan or dairy butter
3 1/2 tablespoons tahini
¾ cup flour
¼ cup Raaka Tanzanian Cacao Powder
Assembly
Gold and silver decorating sugar
¼ cup plant milk
Steps:
Plain Dough: Cream butter, tahini and sugar with a mixer until fluffy. Mix in vanilla.
Add flour and salt, beat until just combined. Form into a flat rectangle disc, about 1/2 inch thick, wrap in plastic wrap, and refrigerate for 30 minutes to 1 hour. 
Chocolate Dough: Repeat plain dough steps, including cacao powder along with flour.
After chilled, cut plain dough into four even strips, the long way, and chocolate dough into 5 even strips, the long way. Use your hands to adjust pieces so they are all about the same length, making sure the keep them square shaped, not rolling it round.
Assemble the checkered log, use the photo above for reference! Bottom layer: chocolate, plain, chocolate. Second layer: plain, chocolate, plain. Third layer: 

chocolate, plain, chocolate.

Use your hands to press log on each side to ensure pieces stick together, you can also lengthen the log this way to get your ideal cookie size. Wrap snuggly with plastic wrap, press sides, firmly, confirming all pieces are now one, and place in fridge for ~1 hour. Freeze to speed process.
Preheat oven to 350º.
Remove plastic wrap and slice log to ~1/4 inch slices.
Place sugars and milk in separate small dishes. Gently dip the 4 outer edges of the cookie in the milk, then press each edge into one of the sugars. Place on a lined baking tray and repeat for the rest, alternating sugar colors. 
Place baking tray in fridge one more time, for about 20-30 minutes.
Bake for 12-15 minutes, until just slightly golden. Time will vary based on cookie size.
Let cookies cool on tray before removing. Enjoy!