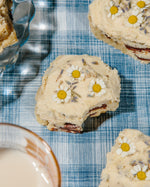 We're celebrating the spring equinox with a batch of our lovely Chamomile Lavender Blondies.
Chamomile infused vegan butter is the secret ingredient of our gluten free blondies. Studded with our bright, fruity Classic Dark Baking Chocolate, these blondies nod to a chocolate chip nostalgia. Our Dominican baking chocolate has an iconic boldness to it that balances in perfect harmony with the subtle, yet very present, florals and honey.
These blondies will have you daydreaming of all the picnics, fresh flowers and sunny breezes that are soon to come now that the spring season is here.
*swap out the honey in the frosting for an extra tablespoon of plant milk for a 100% vegan recipe!
INGREDIENTS:
Chamomile Blondies
10 tablespoons vegan butter
½ cup chamomile tea, loose leaf 
1/2 cup sugar
1/4 cup brown sugar
1 tablespoon vanilla extract
2 flax eggs (2 tablespoons flax + 6 tablespoons water)
1 cup all-purpose GF flour (we use Bob's Red Mill 1:1 GF flour)
1/2 cup almond flour
1 1/2 teaspoon baking powder
1/2 teaspoon salt
1/2 cup Classic Dark Baking Chocolate
Lavender Honey Frosting
1 stick vegan butter, softened
2 cups confectioners sugar
1 tablespoon honey
1 tablespoon plant milk
2-3 teaspoons crushed edible lavender (use a mortar and pestle or spice grinder)
STEPS:
1. Preheat oven to 350º F.
2. For blondies: In a saucepan, add butter and chamomile. Let butter melt on low heat, cover and let infuse with tea for 10-15 minutes. 
3. Meanwhile, stir together the flours, baking powder, and salt in a medium sized bowl.
4. Once butter is infused, strain chamomile from butter into a second bowl.
5. Whisk sugars and vanilla into butter until fully incorporated. Stir in flax egg.
6. Stir the butter mixture into the dry mixture until just combined. Let sit for 5 minutes to cool, so chocolate doesn't melt. (If you prefer melty chocolate ribbons through the blondies, go ahead and mix them straight away!)
7. Fold in Classic Dark Baking Chocolate.
8. Line an 8x8 baking dish with parchment paper and spoon batter into pan, smoothing down with spatula. Bake for 20 minutes.
9. Check blondies with a toothpick, if it comes out clean, they're done. If they need more time, bake for another 5-10 minutes. They'll be ever so slightly golden along the edges.
10. When done, remove from oven and let cool in pan.
11. For frosting: With a mixer, whip together butter and confectioners sugar.
12. Whip lavender, honey and plant milk in until incorporated. Set aside until ready to serve!
13. Once brownies are cooled, remove from pan and frost the whole thing before cutting, or cut into squares and frost individually. Frost as liberally as your heart desires.
14. Optional: Garnish with lavender and fresh chamomile blossoms!
15. Enjoy :)