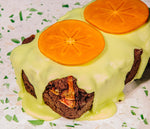 Our Chocolate Persimmon Loaf combines two things we love about winter: persimmon season and cozying up with a slice of hearty breakfast loaf. We set out to create a chocolate-y loaf that was comforting and bright all at the same time, a loaf that feeds your soul in the cold, dark winter months. Our breakfast loaf is gluten free, using oat flour, which makes it perfectly reminiscent of a warm bowl of oatmeal. We mix in our fruity Dominican Classic Dark Baking Chocolate, giving this loaf a depth and richness that unexpectedly plays delightfully with the persimmon and lime. This recipe is highly versatile, so if you can't find persimmons, we'd recommend using mashed banana or pears! 
Ingredients:
Loaf
1 3/4 cups oat flour
½ c arrowroot starch
1 cup (~6 oz) Raaka Classic Dark Baking Chocolate 
¼ c coconut oil
2 flax/chia eggs (2 tablespoons ground flax/chia + 6 tablespoons water)
½ cup sugar
2 teaspoons baking soda
Juice of 1 lime
1 teaspoon Apple Cider Vinegar
1 cup crushed ripe hachiya persimmon
Lime Icing
Zest of 1 lime
1 cup of confectioners sugar
1 lime's juice
Optional: yellow and blue or green food coloring
1 fuyu persimmon, sliced thinly in rounds (ripe hachiya might be too squishy to hold its shape!)
Steps:
1. Preheat oven to 350º.
2. In a mixing bowl, whisk together oat flour, arrowroot, sugar, baking soda.
3. In another small bowl, stir together persimmon, vinegar, lime juice and flax egg. 
4. In a double boiler, melt down chocolate and coconut oil.
5. Stir chocolate mixture in with the dry mix, then stir in the persimmon mixture, until just combined.
6. Spread into greased loaf pan. We used 2 4x7.5 loaf pans. If combining into one larger loaf pan, note that baking time will increase.
7. Bake for ~40 minutes, until toothpick inserted in center comes out clean.
8. Remove from oven and let cool in pan/s, removing from pan once cool.
9. For icing, add zest and confectioners sugar to a bowl. 
10. Slowly whisk in lime juice, one teaspoon at a time, until thick icing forms and clumps are gone.
11. Optional: Add food coloring until you achieve a bright, lime green color.
12. Drizzle icing over loaf, then place persimmon rounds on top of icing. Let set until dry to the touch.
13. Slice and enjoy!