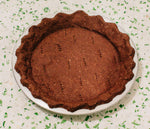 We've been in love with 
Knead Love
, a small one-woman bakery based in Brooklyn, for some time now. Owner and baker Sarah Magid specializes in what she calls "gluten-free, nutrient-dense and high-vibe baking," focusing on the pillars of good bread and baked goods: time, care, and fresh ingredients. Her dedication to all three runs deep, but particularly when it comes to sourcing. A large portion of her ingredients can be found at the NYC Greenmarkets, like Roxbury Mountain Maple Syrup, Tremblay Apiaries honey, Maine Grains Oats, and Farmer Ground flour. It's the kind of care we put into our own chocolate, so when we thought about working with someone to make a chocolate pie crust Sarah was at the top of our mind, and she absolutely delivered.
This pie crust shell tastes like a brownie and traditional pie crust in one. It has that classic rich chocolatey brownie flavor but the density and strength of a pie crust. It's perfect for no-bake recipes or classic coconut cream pies. Our single origin Tanzanian Cacao Powder lends a fruity depth and subtle bittersweet profile to gently cut the sweetness of your favorite pie filling. Under baking the shell as noted will result in a softer, more brownie-like texture, while baking a bit longer will give it a crispier edge.
Recipe for one 9 inch pie shell.Ingredients:
Dry
1.5 cups fine almond flour
2 tablespoons arrowroot or tapioca flour
2 tablespoons coconut flour
1/4 teaspoon fine sea salt
6 tablespoons single origin 
Tanzanian Cacao Powder
Wet
1/4 cup maple syrup
2 tablespoons melted coconut oil
1 teaspoon vanilla extract
Instructions:
1. In a medium bowl, mix together all the dry ingredients with a whisk until no lumps remain.
2. In a separate bowl, whisk together the wet ingredients, then add them to the dry ingredients with a rubber or wood spatula.
3. Once combined, mix with your hands to make sure it's incorporated thoroughly. Pat into a 5 inch disc, and lay in between two silicone mats or two pieces of parchment paper.
4. Using a rolling pin, roll dough to a 9 inch circle and gently remove the top parchment/silicone mat.
5. Gently place your pie tin upside down onto the dough; scoop your hand underneath the other sheet that has the pie dough on it, and flip. Peel back the top sheet and press the dough into your pie tin. This dough is very forgiving for patching and adjusting. For a crimped look, pinch the edges. If the dough is too soft, put in the freezer for a few minutes to harden. This will make it easier to shape more elaborate edges.
6. Chill in the freezer for 15 minutes while preheating the oven to 350.
7. Bake for 10-12 minutes for a softer, brownie like crust, or 14-16 minutes for a crisper crust.
8. Let cool, then fill with your favorite no-bake recipe. Enjoy!