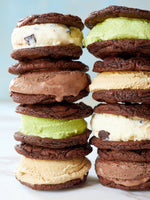 We are really feeling the summer heat this week, but luckily we've got these delicious, Double Chocolate Ice Cream Sandwiches to keep us cool. Eric King of Easy Gay Oven has crafted the perfect go-to cookie for all of your ice cream sandwich dreams. It's rich, chewy and bold…the extra dark chocolate cookie providing the perfect balance to a sweet, cool ice cream center. Mix and match your favorite ice cream flavors to create your perfect ice cream sandwich. Need flavor ideas? We're dreaming of Black Raspberry, Coconut or a Cold Brew ice cream center.
We're huge fans of Eric's take on kitchen classics, taking familiar baked delights to the next level with unique flavor twists and explaining fail-proof baking techniques in an approachable way. Check out more of Eric's delicious baked goods on his Instagram, Tik Tok and Blog! 
INGREDIENTS:
10 tablespoons unsalted butter (141 grams)
1 1/3 cup all-purpose flour (165 grams)
3/4 teaspoon baking soda
1/4 teaspoon baking powder
1 teaspoon kosher salt 
1/2 cup light brown sugar, lightly packed (105 grams)
3/4 cup white granulated sugar (160 grams)
1 large egg
2 teaspoons vanilla extract 
1/3 cup dutch-process cocoa powder (40 grams)
1 cup Raaka Classic Dark Baking coins, roughly chopped (plus more for topping)
1 quart or 2 pints your choice of ice cream(s)
STEPS:
In a saucepan over a low flame, or in the microwave, gently heat the butter until it's just melted. Set aside to cool slightly. 
Whisk together the flour, baking soda, baking powder, and salt in a small mixing bowl. 
Add the granulated sugar, brown sugar, and melted butter to a large mixing bowl. Whisk to combine. Then add in the egg and vanilla extract and mix until shiny and smooth. Whisk in the cocoa powder, trying to break up any lumps. 
Fold the dry mixture into the wet mixture just until there are a few streaks of flour left, then add in the chopped chocolate and continue folding until totally combined. Transfer to the refrigerator to chill for about 1 hour. 
10 to 15 minutes before you take the dough out of the fridge, preheat the oven to 375° F. Line three half sheet trays with parchment paper. 
Scoop out heaping tablespoons of dough (about .75 ounces each) and form them into balls, placing up to 9 on each sheet. This recipe makes 24-26 cookies, so 12 or 13 sandwiches. You'll have to bake in 2 batches. 
Bake the first two trays for 8 minutes or until the eggs are set and the middle is dry. Remove from oven and allow them to rest on their trays for 5 minutes before transferring to a wire rack. Repeat with remaining dough. 
After the cookies have cooled completely, freeze them for 15 minutes or until they are firm. This helps them more easily sandwich the ice cream. When ready to assemble, "temper" the ice cream(s) in the refrigerator for about 10 minutes. 
Put tin in the freezer as a place to put each assembled sandwich. Place a scoop of ice cream on each cookie, then press down lightly with another cookie until the ice cream is almost at the edges of each cookie. Transfer to the freezer and repeat with the remaining cookies. 
Freeze the sandwiches for about 30 minutes before serving, or wrap each sandwich in wax paper or plastic wrap if serving later.