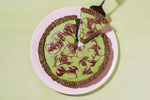 Our Matcha Swirl bar in pie form. This no-bake pie is easy to make and downright delicious. It's vegan, gluten-free, and sweetened with medjool dates and maple syrup. Earthy matcha and fresh mint pair delightfully well with the cloud-like coconut custard and our fruity, rich Maple Dark Baking Chocolate, made with cacao sourced from the Semuliki Forest in Uganda. Perhaps you've heard of snacking cake? Well, this is snacking pie. 
INGREDIENTS:
Crust
1 cup unsweetened coconut flakes
1 cup medjool dates
1 cup quick rolled oats
1/2 cup Maple Dark Baking Chocolate
1/8 tsp salt
Filling
Matcha Mint Cream Filling
1 cup full fat coconut milk
1 5.4 oz can coconut cream
6 sprigs + 8 individual leaves fresh mint
1 tablespoon matcha powder
3 tablespoons maple syrup
1/2 cup coconut yogurt
2 tablespoons + 1 teaspoon cornstarch
Chocolate Swirl
1/4 cup Maple Dark Baking Chocolate
3 tablespoons coconut milk
STEPS:
Add shredded coconut and dates to food processor, blitz until paste forms. Remove and add to bowl.

Roughly chop chocolate and add chocolate and oats to food processor. Process until chocolate has turned into fine bits.

Add oat mixture to date mixture, along with salt, and use your hands to combine ingredients until dough forms.

Line 8 inch pie dish or cake pan with parchment paper. Press dough into pan, forming an edge that is about 1 inch tall. Once dough is evenly, smoothly pressed in, use the back of a fork to press patten into crust edges. Place crust into fridge to chill.

In a saucepan, add coconut milk, coconut cream and sprigs of mint. On low medium heat, bring mixture to a simmer and then reduce heat, and let simmer for 5 minutes.

Remove from heat and take mint leaves out of coconut milk, squeezing excess milk from them before discarding. 

Vigorously whisk cornstarch and matcha into mixture so no clumps form. Whisk maple syrup in. Place back onto stove and bring up to medium heat.

Once mixture is bubbling, whisk continuously while mixture thickens. This will take up to 15 minutes. Mixture is ready when it is the consistency of thick pudding.

Add mixture to a bowl and let cool slightly. 

Take your mint leaves and finely chiffonade. Take half of the mint leaves and add to yogurt, place other half into fridge.

Once matcha filling has cooled, whisk yogurt mix into filling until fully incorporated.

In a small saucepan on low, heat chocolate swirl ingredients just for a minute or so, whisking so as to not burn, remove from heat and continue to stir until chocolate is completely melted. Set aside.

Remove crust from fridge, pour matcha filling in and level out.

Dollop chocolate mix overtop filling and use a chopstick or toothpick to swirl through the chocolate, creating a chocolate swirl. 

Place pie into fridge and chill until set, at least an hour.

Garnish with reserved mint leaves if desired. Slice and enjoy!