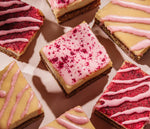 Our limited batch Pink Magic white chocolate inspires us endlessly, so, of course, we couldn't resist carrying that inspiration into the kitchen. With citrus season in full force, we wanted to create a tangy treat that'll brighten even the dullest of winter days. To keep it on theme, we chose or favorite pink citrus, grapefruit, as the star of the show. Enter, Pink Grapefruit Magic Bars. Grapefruit and white chocolate are a naturally perfect pairing, perhaps gone widely unnoticed and unappreciated, when lemon and oranges tend to steal to citrus show, time and time again. We're here to say these bars are grapefruit's moment to shine. The tart and bitter grapefruit is polished up by a smooth, creamy "cheesecake" filling and the gentle sweetness of dates and honey. This dessert is made with whole foods ingredients while still tasting every bit indulgent--feel good dessert for the soul and body.
Ingredients
Cookie Base
1 cup oats
1/2 cup shredded coconut
1 cup pitted medjool dates
Grapefruit Filling
~1 1/2 cup fresh grapefruit juice with pulp
1/4 cup honey
1/4 cup arrowroot starch or cornstarch
1 cup cashews, soaked overnight or boiled for 20 minutes
1 1/4 cup coconut flakes
To Decorate
Optional: pitaya powder

Steps
Preheat oven to 325º.

In a food processor, blitz oats until a gritty flour forms. Place into mixing bowl.

In the food processor, combine dates and shredded coconut. Blitz until a paste forms. Add to bowl, and combine with oat flour until dough forms.

Press cookie base into a parchment lined 8x8 baking dish.

Bake for 15 minutes, until no longer tacky to the touch. Remove.

Increase oven temp to 350º.

In a high speed blender, combine all filling ingredients.

Pour overtop cookie base, tapping to even out.

Bake for 20-30 minutes, until center is only slightly jiggly.

Remove from oven and cool.

To decorate: 

Melt down Pink Magic bar. Drizzle overtop and sprinkle pitaya powder in desired pattern. Let set before slicing. Alternatively, slice bars before decorating, and drizzle Pink Magic and sprinkle pitaya powder over bars individually.

Store in refrigerator.