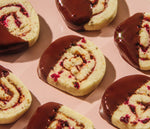 Cookies are meant to be fun, and what's more fun than a cookie with a whimsical design? While pinwheels are typically made during the holidays, we think they should be celebrated year round. With that in mind, we've shared a recipe inspired by our January First Nibs Cranberry Pink Peppercorn bar, Chocolate-dipped Pink Peppercorn Pinwheels. These swirly, mesmerizing cookies are fruity, bright, and zippy.
Crushed pink peppercorn studs our gluten-free cookie dough, which is harmoniously swirled with a tangy cranberry date filling. A creamy, fruity Classic Dark Chocolate dip accentuates these flavors all the more. 
Ingredients:
Dough
½ cup sugar
1 stick vegan or dairy butter
2 cups gluten free flour blend (we used Bob's Red Mill)
½ teaspoon baking powder
¼ teaspoon salt
¼ cup plant milk
1 flax egg (1 tbsp ground flax, 3 tbsps water)
1 tablespoon crushed pink peppercorn
Filling
1 cup cranberries
¼ cup packed dates
Chocolate Dip
1 cup Classic Dark Baking Chocolate
Steps:
Cream together butter and sugar.

Separately, whisk flour, baking powder, salt and pink peppercorns. 

With a mixer, mix together butter mixture with dry mixture, then add flax egg and milk. Form into a disk, wrap in plastic and refrigerate for ~1 hr.

Blitz dates and cranberries in a food processor until a chunky paste forms. 

Remove dough from fridge, and, on a floured piece of parchment paper, roll dough out into a rectangle about ⅛ inch thick. If dough cracks, gently press back together and continue rolling. 

Spread cranberry filling in a layer on top of dough.

Gently roll your dough, the long way, into a tight log. Use the parchment paper to guide your dough, and smooth it out when it cracks. Once rolled. Gently, but firmly, press log so edges seal together. Wrap in plastic wrap and refrigerate again for at least an hour, until firm.

Preheat oven to 350º. 

Remove dough from fridge and slice cookies, about 1/8 to 1/4 inch thick. Place on lined baking sheet and bake for ~12 minutes, until cookies just start to turn golden.

Let cookies cool on tray.

Melt chocolate down and dip half the cookie into chocolate, place on parchment paper and let chocolate set.