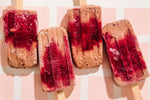 Bright and jammy raspberries meet cool, creamy chocolate coconut milk in this swirly, pleasantly puckery popsicle. One of these will cool you down and tingle your jaw in the best way.
INGREDIENTS:
Cocoa Magic Layer
1 cup plant yogurt
1 cup full fat coconut milk, room temperature
1/2 cup Cocoa Magic
1/4 cup maple syrup
Raspberry Layer
2 cups frozen raspberries, defrosted
1/2 cup coconut water
1/4 cup maple syrup
STEPS:
Whisk together Cocoa Magic layer ingredients until smooth.

Separately, whisk and mash together raspberry layer ingredients, smashing any large chunks so it is a loose jam texture.

Pour 1-2 tablespoons of Cocoa Magic layer into ice cream molds and let set in freezer for 30 minutes.

Remove from freezer and add 1-2 tablespoons raspberry later, place back in freezer for 30 more minutes.

Remove from freezer and add a final Cocoa Magic layer. Use a chopstick to carefully swirl layers, if desired.

Freeze for about an hour to firm up and then add popsicle sticks to popsicle centers, pushing about 2/3 of the way down. 

Freeze popsicles overnight.

To remove from molds, run under warm water for about ~30 seconds until popsicles slide out of molds. 

Place on a parchment lined tray and pop back in freezer to firm back up before consolidating to store.

Enjoy!