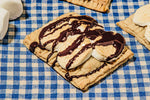 Two of our favorite sweet snacks in one. These chocolatey, salty and flaky tarts bring that campfire feeling to your table, no tent or fire needed. Our refined-sugar free, single origin Maple Dark Baking Chocolate lends those nostalgic golden brown notes. We're loving these as a morning treat, but they're also a picnic all-star.
PIE CRUST
2 cups all purpose flour
1 1/2 sticks butter, chopped and chilled
1 tablespoon coconut sugar
1 teaspoon cinnamon
1/4 teaspoon salt
~¾ cup ice water
FILLING
3/4 cup Maple Dark Baking Chocolate
1/4 cup dairy or plant-based milk
TOPPING
Marshmallows!
1. Mix flour, sugar, cinnamon + salt . Cut chilled butter into dough. Use your hands to smash the butter chunks into the flour, until roughly incorporated. Place into freezer for ten minutes.
2. Remove from freezer and add ice water, slowly, 1 tablespoon at a time. Mix to incorporate. You want enough water to make a shaggy dough that just comes together.
3. Form dough into a disk, wrap in plastic wrap, and place in fridge for 30 mins to an hour.
4. Melt + whisk together baking chocolate and plant milk until smooth and emulsified, place in fridge to chill.
5. Take your dough and place on a floured surface. Roll dough out to 1/8 inch thick and cut rectangle/square shapes, about 3-4 inches tall/wide. Place in fridge.
6. Assemble the pop tarts: place 1-2 tablespoons of chocolate onto half of the dough pieces. Dip your finger in water and run along the outer edge of them. Place a second dough piece overtop, carefully sealing along edges.
7. Use a fork to press a pattern along the edges, and to poke air holes on the top of the pop tart. Place in fridge one last time for 10 minutes and preheat over to 400º.
8. Brush plant milk over the pastry and place in oven. Bake for 20-25 minutes, rotating halfway through.
9. Slice each marshmallow into 4 rounds. Top each pop tart with 2-4 marshmallow rounds, pressing down slightly so they stick.
10. Toast in the oven briefly, until marshmallows are golden brown.
Enjoy!