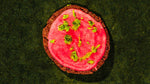 It's officially strawberry season here in NYC, and basil isn't far behind. We love this time of year. Our local farmers markets are abundant with tender greens, crisp spring vegetables, and the harvest season's first fruit. To celebrate this season's first strawberries, we've come up with the perfect cookie to compliment the beginning of the season's bounty: the Strawberry Basil Cacao Cookie.
This cookie was inspired by an old First Nibs favorite, Strawberry Basil and Eric Kim's Cranberry Glazed Cookie for The Kitchn (itself loosely adapted from Nigella Lawson's "Chewy Almond Macaroons"). It's a veganized, chocolate-ized, summer-ized version, but the chewy texture of The sweet zing of the strawberry glaze and crunchy basil sugar brings out the fruitiness of the macaroon-like cacao cookie. Our single origin Tanzanian Cacao Powder brings that fruit-forward flavor, and lends a creamy complexity as well.
You might think it's too warm to turn on the oven, but this is a cookie for the summertime. 
Recipe:
Adapted from Eric Kim's Cranberry Glazed Cookie
Ingredients:
1 1/2 cup almond flour
1/2 cup Tanzanian Cacao Powder
1 cup sugar
1 tsp vanilla
½ tsp salt
4 tbsp aquafaba
1 cup fresh strawberries, diced
½ cup powdered sugar
Juice of 1 lemon
¼ cup fresh basil
½ cup sugar
Zest of 1 lemon
Steps:
Preheat oven to 350.

With a mixer, beat aquafaba in medium bowl until foamy. Add all other ingredients and beat until almond flour is hydrated and makes a paste-like dough.

Dampen hands and form dough into 2 tbsp-sized balls. Evenly spread out on lined baking sheet, press down until ¾ in thick.

Bake for 18-20 mins, then gently press down cookies with back of a spatula or bottom of a round cup, ~¼ inch thick. Place back in oven for another 2 minutes.

Remove, let cool on tray for a few minutes then transfer to cooling rack.

While cookies cool, place strawberries and lemon juice in a saucepan and simmer until strawberries burst and liquid reduces, 5-10 mins.

Strain strawberries through a fine mesh strainer. You'll have ~2 tbsp liquid pulp. 

Wisk strawberries and confectioner sugar until smooth.

In a food processor, pulse basil, sugar and lemon zest until basil is broken down and combined.

Once cookies are cooled, spoon icing overtop cookies, spreading smooth. Sprinkle basil sugar overtop before the icing sets.