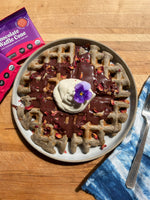 With the launch of our new Waffle Cone squares, we've had waffles on our mind non-stop. This, of course, inspires us in the kitchen. In come these beautiful, delicious waffles created by Sarah Kate Benjamin of The Kosmic Kitchen. We love the magic Sarah Kate creates through food, crafting nourishing recipes and offering thoughtful insights into everyday kitchen herbalism. She makes herbalism, and herbal self care, approachable and simple by effortlessly folding beneficial herbs and spices, aligned with the seasons, into daily life. The result are recipes that are simple and familiar, yet totally unique and extra nourishing.
Sarah Kate's take on a familiar classic levels up this recipe to be extra nourishing and delicious. A combination of buckwheat flour and ground cardamon give these waffles a hearty and complex flavor profile while adding extra nutrients. The addition of maca powder, warming nutrient-rich adaptogen, helps to support healthy energy, hormones, and mood. The rich, chocolate sauce gives these waffles an extra dose of joy, ensuring your day gets off to a great start. We recommend using one of our bold, fruity Baking Chocolates, or our Rose Cardamom bar! These waffles are equally as perfect as a breakfast to support you through a busy work week, or as a delightful weekend brunch.
Recipe by Sarah Kate Benjamin of The Kosmic Kitchen
Ingredients:
For the waffles
1 cup buckwheat flour
1 cup all-purpose flour
1/4 cup sugar
1 teaspoon ground cardamom 
1 1/2 teaspoons baking powder
1/2 teaspoon fine salt
1 large egg
1 1/2 cups milk (dairy or alternative)
1 teaspoon vanilla extract
1/2 stick unsalted butter, melted and cooled
For the chocolate sauce 
1 cup Raaka Maple Dark Baking Chocolate or 1 chocolate bar, chopped 
1 tablespoon maca powder, optional 
¼ cup heavy whipping cream
Pinch of salt 
Steps:
In a mixing bowl, whisk the dry ingredients to combine. 

In a separate bowl, whisk the egg, milk, vanilla extract, and melted butter together then gently fold into the dry ingredients. 

Let the batter rest for 10 minutes while your waffle iron warms up. 

Add a little butter to the waffle iron and ladle in ½ cup of batter to cook until crispy. Repeat with the remaining batter. 

For the chocolate sauce, set a glass or metal mixing bowl over a pot of simmering water, making sure the bottom is above the water and not touching. 

Add the chocolate, maca powder, heavy whipping cream, and salt then gently stir until melted. 

To serve, divide waffles among plates and top with warm chocolate sauce.