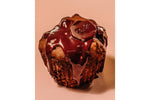 Today we are bringing you a breakfast muffin courtesy of Nate, our CEO and co-founder's, mom. Nothing quite hits the spot like a wholesome recipe passed down from your mother, and these Chocolate Breakfast Muffins do not disappoint. Sweetened only with the slightest bit of honey, this recipe also uses applesauce and mashed banana, for a hint of sweetness and moist texture. In her words, "This tasty sugar free, gluten free version will leave you wanting more than one, and certainly you will oblige. At the same time, you will be getting your oats for breakfast!".
Dress this muffin up for dessert by drizzling a generous amount of Maple Dark Baking Chocolate
Ingredients:
⅔ cup Cacao Powder
2 cups oat flour 
1 teaspoon baking powder 
1 teaspoon baking soda 
½ teaspoon salt 
2 large eggs (or equal amount of egg whites)
1 cup milk 
2 teaspoons vinegar (added to milk) 
2 teaspoons vanilla extract 
4 tablespoons canola or light olive oil 
2 tablespoons unsweetened applesauce 
1 small or ½ large banana, mashed 
2 tablespoons raw honey 
1 cup Maple Dark Baking Chocolate
Steps:
Preheat the oven to 425º. 

In a large mixing bowl, whisk together the first 5 ingredients. Set aside. 

In a medium sized bowl, whisk together the eggs, milk/vinegar, vanilla. 

Add in the oil, applesauce, mashed banana, and raw honey. 

Add the wet ingredients to the dry ingredients, stirring to combine. Fold in the chopped chocolate. Let all rest 5 minutes. 

Scoop the batter two thirds full into 12 to 14 lined muffin cups.

 Bake muffins 15 to 18 minutes, or until a cake tester inserted into muffin comes out clean ( watch closely, careful not to overbake). 

Remove muffins from the oven and cool on a wire rack before serving.