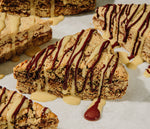 When we're in the slumps of January, a cold, dark season, we find comfort in baking. Baking things that are hearty and cozy, while mixing in little reminders of sunnier times. Enter the Chocolate Hazelnut Scone with Banana Maple Glaze, inspired by our limited collaboration with Ground Up. This scone is the perfect companion for a slow morning spent inside...the combination of oats, hazelnut and chocolate are delightfully cozy, while tropical notes of coconut and banana keep things light. This scone is straight up charming, and plays on the quintessential combination of hazelnut, chocolate and banana in a way you've never had before. Grab yourself a jar of Chocolate Hazelnut Butter, or swap it our for chopped Maple Dark Baking Chocolate and get baking!
Ingredients:
Scone Dough
2 cups oat flour
1/2 cup coconut flour
2 teaspoons baking powder
1 teaspoon baking soda
½ cup vegan butter, cubed and cold
¼ cup maple syrup
½ cup plant milk
2 tablespoons ground flax
1 tablespoon apple cider vinegar
1/3 cup GroundUp Chocolate Hazelnut Butter
Glaze
1 very ripe banana
1/4 cup maple syrup
2-3 tablespoons cornstarch or arrowroot starch
Steps:
In a bowl, whisk together oat & coconut flour, baking powder & soda.

In a separate bowl, whisk together maple syrup, plant milk, ground flax, and vinegar. Let sit.

To the bowl of dry ingredients, add butter, working into the dough with your hands or a pastry cutter. You want a shaggy dough that still has separate bits of butter studded throughout. Don't over work it!

Add liquid mixture and stir until just combined. 

Drizzle Chocolate Hazelnut Butter overtop dough and swiftly fold it into the dough until it just starts to marble, but, again don't over work it.

Bring dough together with your hands to form a thick disk and place in fridge to chill for 10-20 minutes while preheating oven to 425º.

On a floured surface, roll dough out to about 1 to 1.5 inch thick, keeping the circle shape.

Cut 6-8 even wedges (think pie or pizza).

Place scones on a parchment lined baking sheet, brush tops with plant milk, and bake for ~15 minutes, until they start to turn golden along the edges.

Remove from oven and let cool on the tray before removing.

Mash banana and whisk together with maple syrup and starch, until smooth.

Drizzle overtop scones and let set. Optional: Melt some extra Chocolate Hazlenut and drizzle overtop as well!