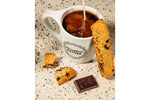 Biscotti and coffee go together like bread and butter. Biscotti is a twice baked, long, dry and very crunchy biscuit from Italy, where some variations are known as cantucci. The word cantuccio, meaning "nook" and "corner", was once commonly used to refer to the end pieces of bread. How appropriate then that eating a biscotti with coffee often brings comfort the way a cozy little nook does.
Our interpretation is vegan and gluten free, with a citrus twist - a nod to citrus infused almond and polenta cakes. We combine almond and corn flours to get a super moist and flavorful base for this biscotti. An excessive amount of orange zest, and orange infused simple syrup are key to bringing this biscotti to the next level. Our Maple Dark Baking Chocolate, both bright and dark, pairs perfectly with the bold flours and orange. 
These biscotti's are light, crisp and best dunked into a cup of coffee, of course. We recommend pairing this with Olympia Coffee's Big Truck coffee, their award winning OG blend!
Ingredients:
1 3/4 cups almond flour
1 cup corn flour
2 teaspoon baking powder
1/4 tsp salt
3 flax eggs (3 tablespoons ground flax, 9 tablespoons water)
3/4 cup blood orange simple syrup* or maple syrup
Zest of 1-2 oranges
1/2 cup coconut oil, melted
Almond extract
1/2 cup chopped Maple Dark Baking Chocolate
Steps:
Preheat oven to 350º.

Whisk together flours, baking powder and salt.

Separately, whisk together simple syrup, egg, zest, almond extract and coconut oil until emulsified.

Whisk wet ingredients into dry, until just combined.

Fold chopped chocolate into dough.

Let set for 10 minutes while almond flour hydrates.

On a parchment lined baking tray, form dough into a oval shaped flat log, about 1/2-3/4 inch thick.

Bake on center rack for 25 minutes until it just starts to turn golden.

Remove and cool completely on tray. Lower oven to 300 degrees.

Carefully slice into 1 inch wide biscotti cookies.

Place back on tray, bake for 15 minutes, flip, and bake another 15 minutes. Biscotti will be golden! 

Turn oven off and let cool/set in oven for another ~30 minutes before removing. Enjoy!
 * Blood Orange Simple Syrup
Ingredients:
1 cup sugar
2 cups water
1-2 blood oranges, or preferred citrus
Steps:
1. Whisk sugar and water in a sauce pan and bring to a boil.
2. Slice citrus into rounds, and add to sauce pan. 
3. Boil for 5 minutes, then reduce to a simmer for 30 minutes. Strain fruit out (dry and enjoy as candied citrus!). Use in baking, add to your morning oatmeal or mix into to seltzer!