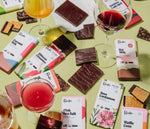 As two terroir-driven, polyphenol-rich delicacies, wine and dark chocolate seem like a natural pairing. Both are collaborative end products of fruit fermentation, shaped by climate, soil, genetics, microbes, and human touch. Every cuvée of wine and batch of chocolate has its own story to tell. But these similarities are exactly what makes them tricky to pair. Sometimes the outcome is an overwhelming amount of bitterness; a clash of the tannins! But when the pairing is right, the flavors of chocolate and wine harmonize into a new, magical third flavor. 
We sent our chocolate to four natural wine professionals to get their recommendations on the best wine pairings for our single origin, unroasted dark chocolate. Some of the pairings are specific, and others are more general to give you a little guidance to make your own choices based on what's available near you. We'll walk you through the thought process of these pairings so that you can make your own in the future, but we've also summarized them by chocolate bar at the bottom if you're short on time and just want a delicious pairing, stat!
Some of the language and thought behind formal tastings of chocolate and wine can be intimidating. We hope this guide provides a helpful framework for you to feel more comfortable and confident with your pairings. If you have any questions or suggestions, feel free to reach out to us at info@raakachocolate.com.
Read on for the deep dive, or scroll to the end for the cheat sheet.
PORT FOR THE WIN
Almost everyone recommended a port with our darkest bars. Ian Garrity, sommelier at NYC's Cosme, recommends pairing our Bourbon Cask Aged bar with a well-aged vintage port, especially Broadbent Vintage Port from Portugal. Vintage port has had time to shed it's tannins, allowing the higher tannins in our 82% cacao to take the forefront. For a slightly lighter pairing with more texture play, New England winemaker Ryan Williams recommends nibbling on our Maple & Nibs while sipping a Tawny Port, noting that "the toasty nibs work perfectly with the sweet nuttiness of this delicious dessert wine from Portugal."
FLORALS & NEBBIOLOS
Maia Fleming, the Wine & Beverage Director of Rebel Rebel Wine Bar in Somerville, MA, recommends lush Italian reds, specifically Nebbiolo wines, with our NYBG Botanical Collection bars. Nebbiolo is a grape known for it's tannins and acidity, which are often expressed through notes of baking spice and flowers (think violets and roses), flavors you'll also find in our floral infused chocolates like Rose Cardamom and Hibiscus Cinnamon. "This pairing might seem a bit too obvious or on the nose, since the flavors are so analogous", Maia notes, "but if it works, it works!"  Some specific pairings she recommended: "Ar.Pe.Pe.'s Rosso di Valtellina, [a] medium-bodied Nebbiolo with soft fruit and integrated tannin, or a Teroldego from Elisabetta Foradori, dark-fruited and structural but still light on its feet. The Rose Cardamom bar with Ar.Pe.Pe. is like an Iranian dessert, or more accurately, brings to mind Iranian cardamom tea, and is the perfect nightcap." 
To play off the herbal, minty quality of the cardamom in our Rose Cardamom, Ryan Williams recommends pairing it with a Grenache, "The Rose Cardamom bar offers this subtle minty aroma that coats your palate and balances perfectly with any light Grenache."
BUBBLES & SALT
Our Pink Sea Salt is perhaps our favorite bar to pair with wine and cheese. With it's balanced fruity, nutty, and savory notes, it's our resident crowd-pleaser. That slight savoriness makes it perfect with a dry, bubbly white like champagne, prosecco, cava, or a chalky pet-nat. Ian loved it with Gregoletto Sui Leviti prosecco. For something extra special, pair these with a salty, caramely, semi-firm goat cheese like Slyboro from Consider Bardwell. It's a trifecta that's guaranteed to please.
For something out of the ordinary, dry orchard based sparkling ciders from New York like Eves, Floral Terranes, and Redbyrd are also fantastic with our Pink Sea Salt. The crisp acidity of these ciders slice through the creamy, rich texture of dark chocolate, and the dry, soft tannins harmonize beautifully with the strong tannins in higher cacao percentage bars. 

AMOR FOR THE LOIRE
The Loire Valley in France is known for buoyant wines made from Chenin Blanc and Sauvignon Blanc, among others. These are white grapes with fresh and elegant flavor profiles that pair well with our vegan "milk style" chocolates and our nostalgic bars like Green Tea Crunch. Ryan describes a rich Chenin from the Loire as "tasting like chocolate Ovaltine and coconut cake got married on a chalkboard", noting that "either the Coconut Milk or the Oat Milk would be a fine pairing to an off dry Chenin." Ovaltine, coconut cake, and our cookie-like Oat Milk? Sign us up. 
Ian echoes this, recommending Sauvignon Blanc from Sancerre (an upper region of the Loire), with our Green Tea Crunch. He especially recommends the Sancerre Blanc from Lucien Crochet, noted for its stone fruit notes and minerality. For our Oat Milk, he recommends pairing it with "a juicy light chilled red that'll make you feel like you're eating breakfast" like a light Cabernet Franc from Loire Valley or California.
LIGHT WITH LIGHT
Almost all our wine professionals  agreed that lighter red and white wines, including skin contact whites, were best with our slightly sweeter bars. Ryan whole-heartedly recommends our Green Tea Crunch with a Riesling, while Ian recommends pairing our Coconut Milk with "an oaked California Chardonnay from the '00s, like Clendenen Family Vineyards "Le Bon Climat" 2016". 
CIDER & SAKE
Jenny Eagleton, Wine & Beverage Director of Oaklands Daytrip, recommends thinking about cider and sake in place of wine. "One of the distinctive characters of most Raaka bars is their acidity—they've got a brightness that lingers and perks your tongue up to take another bite... I love drinking cider with sweets in general but especially with Raaka's bars that are a little brighter and have super playful flavors. You can go full North East with a still cider from someone like Eve's Cidery or Floral Terranes along with the Maple & Nibs. Or lean a little on the wilder and herbaceous side with the almost grassy flavor of the Matcha Swirl with Art & Science's pear and grape coferment, Metamorphosis."
"I also love the way the savoriness in the Pink Sea Salt pairs with the kinds of deep and savory flavors you can find in more robust sakes. Or you can lean into the banana-ness of some classic sakes with the Bananas Foster bar. There's an old adage about sake that says "sake doesn't fight with food." Wine can be tricky to pair with sweets, especially if you don't want to drink a sweet wine. I feel similarly about cider, too."
THE SHORT GUIDE
Oat Milk
Keep it light, crisp, and juicy. Pair Loire Valley Chenins and light Cabernet Francs. 
Coconut Milk
Match the fruity, creamy notes of this vegan milk style bar with creamy California Chardonnays and chalky Loire Valley Chenins.
Green Tea Crunch
Zippy Rieslings and Sauvignon Blancs with crisp minerality to bounce off the nostalgic texture of this rendition on a childhood favorite. 
Bananas Foster
Pair it with a sake. 
Waffle Cone
People say that our Waffle Cone is our most fun bar. With our crisp gluten-free waffle cookie, it's hard not to agree. It's best paired with a fun Gamay from Beaujolais. 
Pink Sea Salt
Sparkling whites are this bar's best friend. Champagne, prosecco, cava, and dry ciders. The life of the party pairing. 
Rose Cardamom & Hibiscus Cinnamon
Pair these with a Nebbiolo, matching the floral notes of these bars with the rich tannins of wines made from this Italian grape.
Maple & Nibs 
The dense texture and tannins of this pair well with a carmely tawny port or dessert wine.
Bourbon Cask Aged
Our cask-aged cacao bar tangoes with a well aged vintage port.