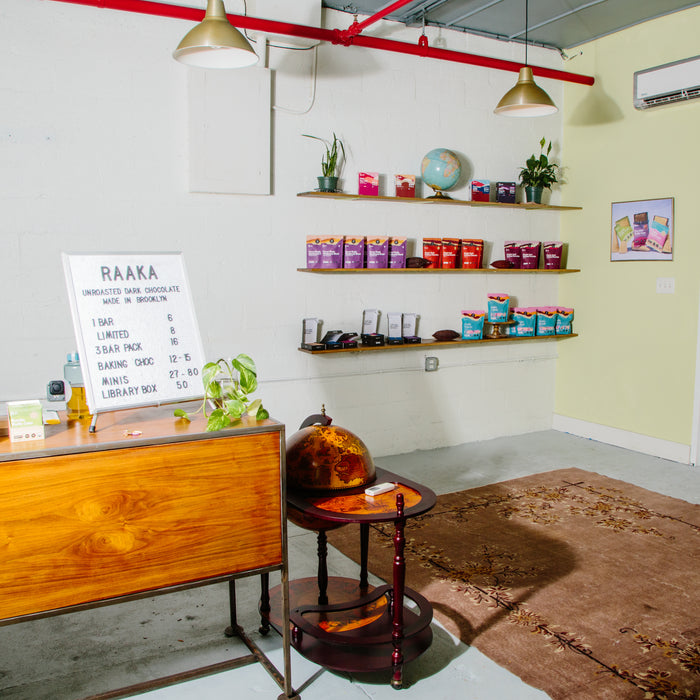 Raaka Shop
Monday - Thursday: 11am-4pm
Friday - Sunday: 11am-6pm
CLOSED: Labor Day 9/4
Located at 58 Seabring St., just next door to our factory. We offer pre-order pick-ups on weekdays with 1 day notice. Please email bookings@raakachocolate.com to pre-order.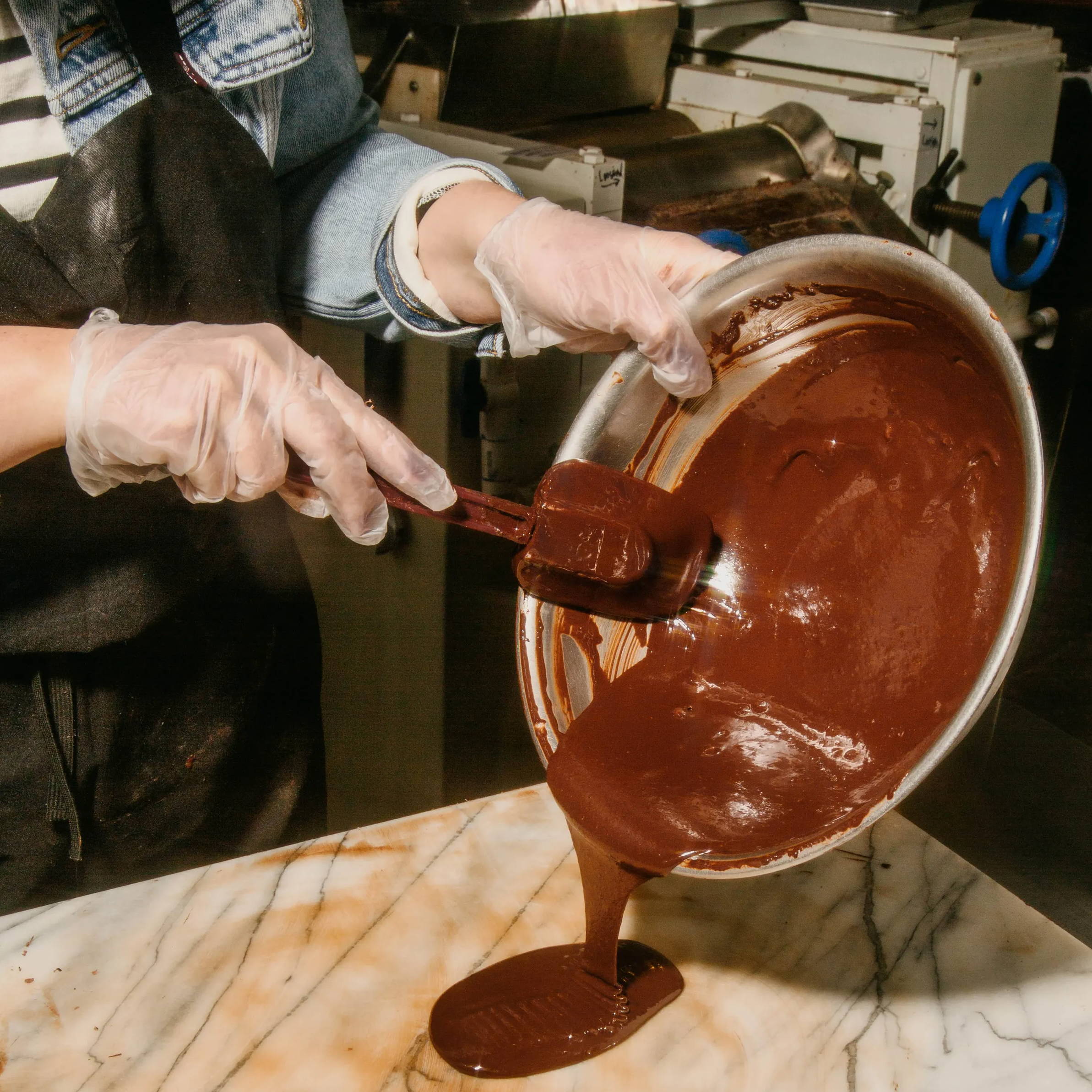 Join us for an evening of chocolate and good times, perfect for a date night, night out with your bestie, or treat yourself to a solo date! You'll get to hand roll a batch of port wine infused dark chocolate truffles, learn how to hand temper chocolate, and then temper your own batch of chocolate. You'll hand dip the truffles along with delicious Rancho Meladuco medjool dates in the tempered chocolate, giving your treats a luscious, sleek chocolate shell. You'll garnish your dipped creations with a variety of topping options, from edible flower confetti to sea salt to sparkling gold dust. You'll also enjoy a complimentary glass of wine, paired specifically with our chocolates, to make the experience all the more delightful!
Rotating weeknights at 6pm
What Visitors Have to Say
"Great class experience. I went with my friend and our instructor/chef was Esteban (hope i'm spelling that correctly) and we couldn't have had a better time. The chocolate was delicious and we learned so much. Definitely would go back for one of their other classes."
Kristen
"This chocolate class provided by experts in the chocolate business was excellent. To begin with, from having a great knowledgeable chef to learning about making chocolate to actually making your own chocolate was fantastic!! The best part with the knowledge acquired you will feel confident to make chocolate at home and impress your friends and family!!"
JMRC
"This place was just amazing, did a cute truffle making class paired with amazing bubbles (the very good hand selected champagne). Everyone was so informative and the class flowed together beautifully. I would so recommend this place for all chocolate lovers and those who like the finest qualities of chocolate."

Brandon
"We had a great time doing the tour and Chocolate bar making class. Ann was an amazing guide and was able to answer all questions asked of her. The whole experience was a tremendous amount of fun and I was surprised with how much we learned when I was all over. Highly recommend."
1HudsonLvr
"We did a chocolate making class and had a truly amazing time with the team. The class is very hands on and you'll learn a whole lot about chocolate. It was a perfect company offsite."
David
"Took the Qi Tea + Chocolate tasting class on Mother's Day and it was great! informative but laid back, and delicious :) hoping to return for a tour or another class soon."

Marisa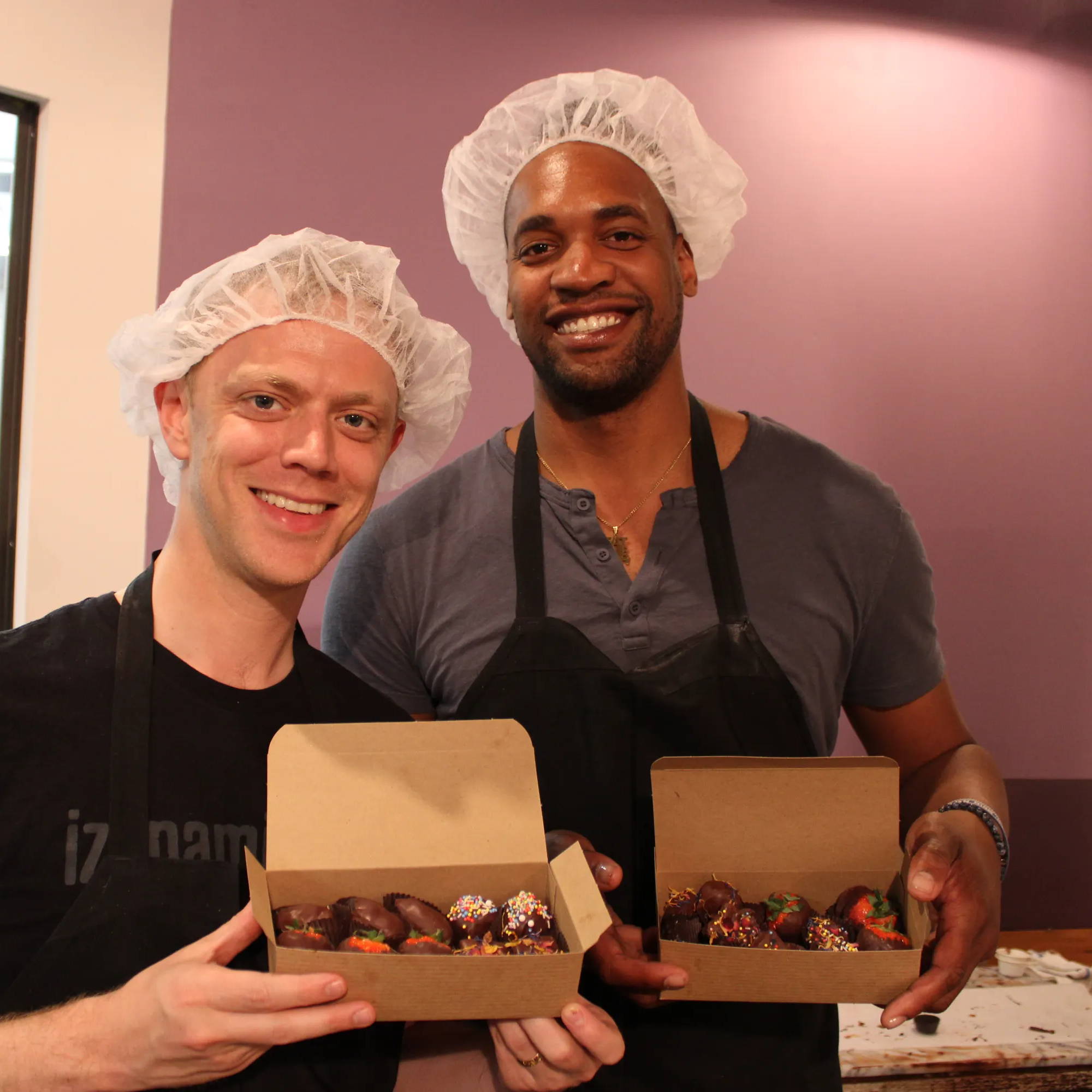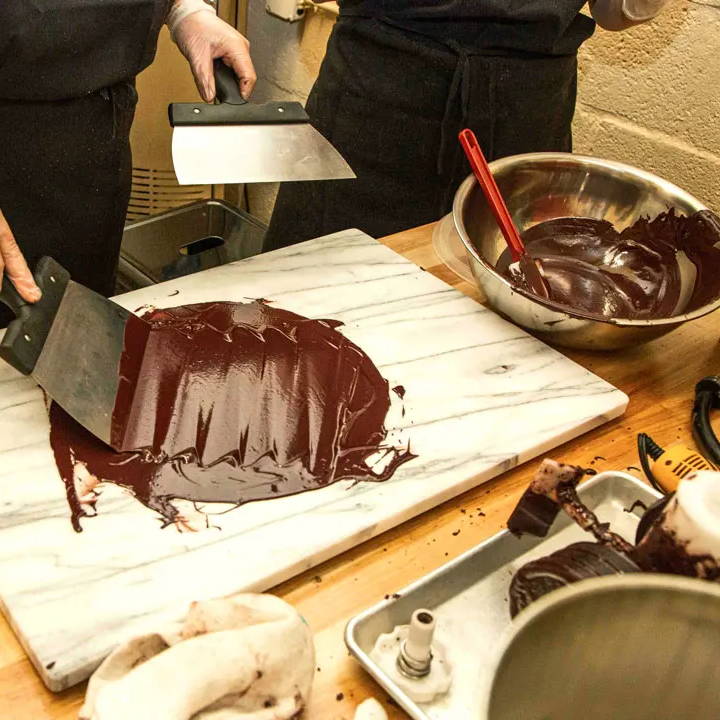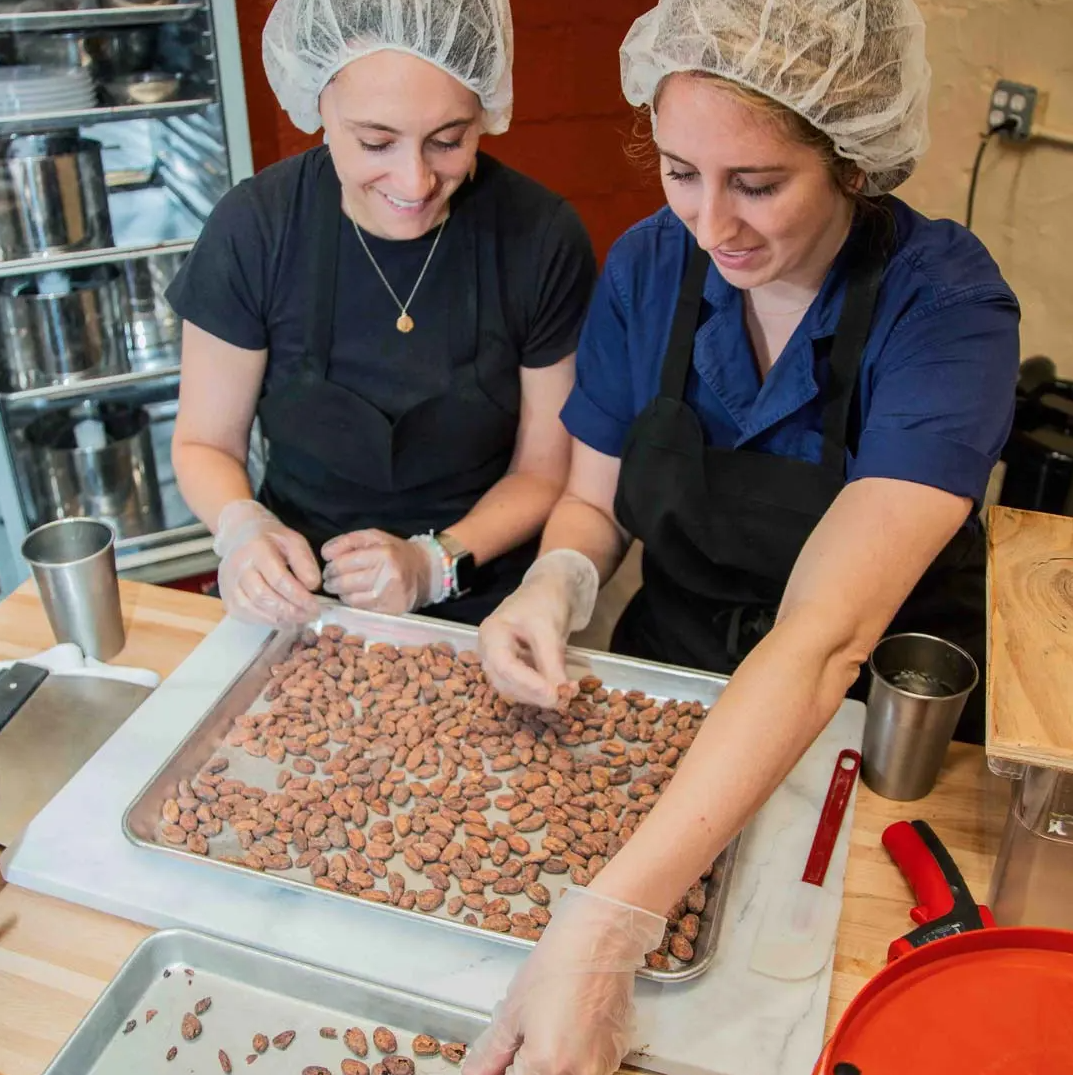 Gift A Chocolate Making Experience
Your gift recipient will receive a physical gift card in the mail to redeem. The gift card will have a unique code that the recipient will be able to redeem on our booking website where they will be able to choose a date and time that works best for them.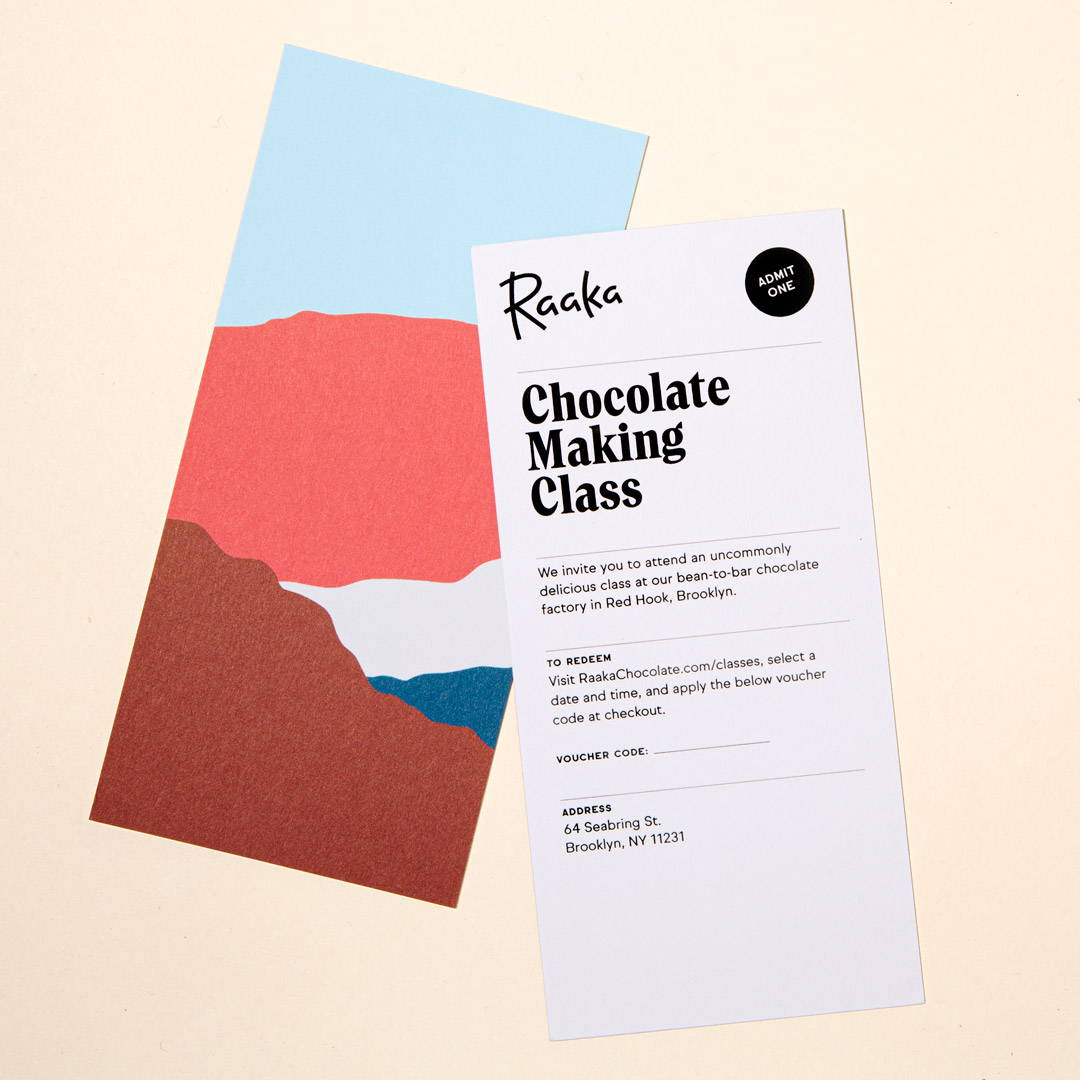 Gift Card: Bean to Bar Chocolate Making Class
Gift a one-of-a-kind chocolate making experience at the Raaka Factory! Our Bean to Bar Chocolate Making Class is our most immersive chocolate experience. In this 3 hr class students will make their own batch of single-origin dark chocolate, by doing a scaled-down version of our own chocolate-making process!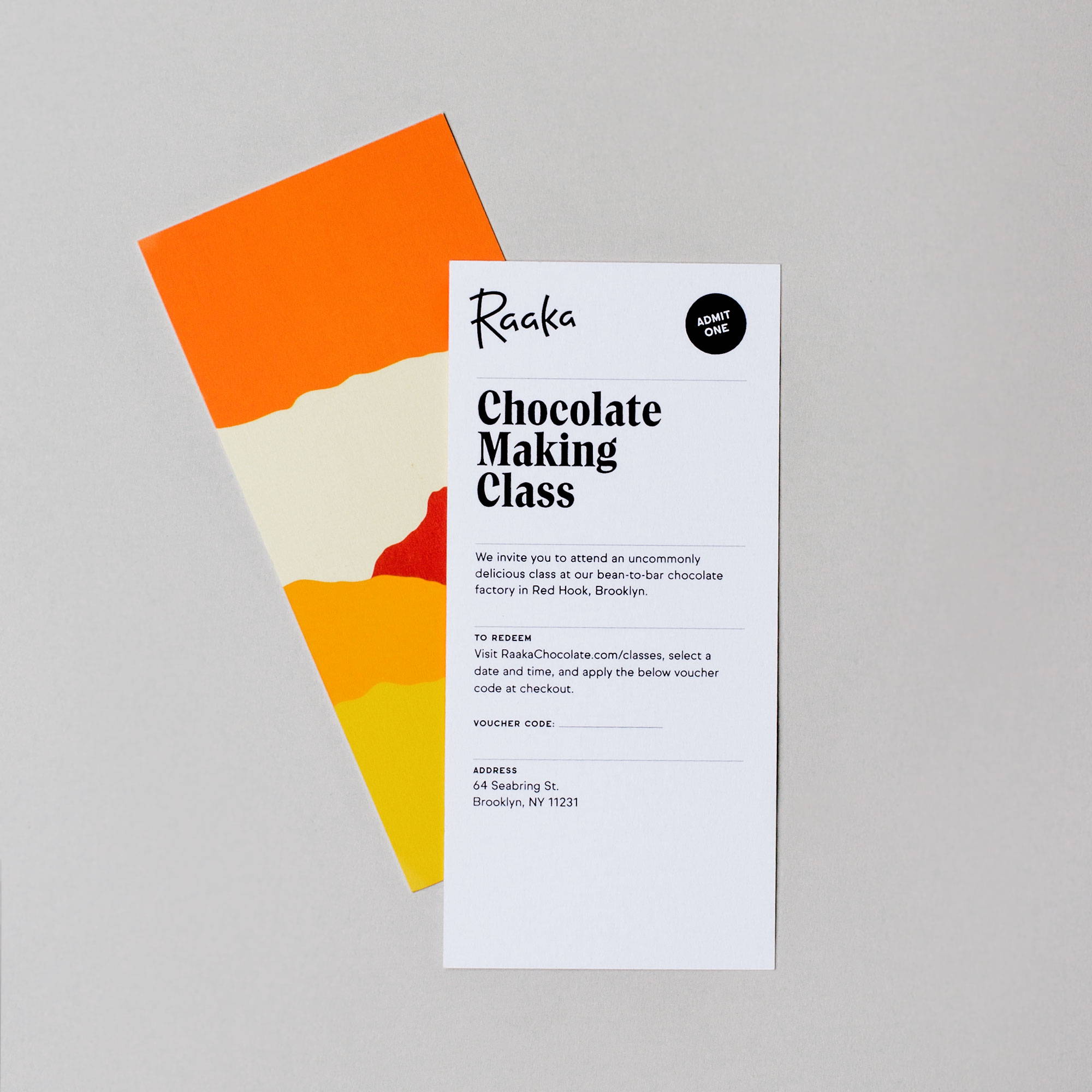 Gift Card: Choose Your Own $60 Tasting Experience

Give the gift of a one-of-a-kind chocolate experience at the Raaka factory with this choose-your-own-adventure gift card.
FAQs
Private & Corporate Events

We're happy to host your group for a private class experience! Please email bookings@raakachocolate.com to get the conversation started.
Rescheduling & Refunds

Ticket refunds are available as class credit only, up to 7 days before event. Within 7 days, there is a 30% rescheduling fee up until 48 hrs before the event. We are unable to accommodate changes or cancellations within 48hrs of the event. To reschedule your class sign into your eventbrite account > click onto the ticket/(s) you wish to transfer >click transfer>change event> and select your new class date>process ticket transfer and fee.

-

Due to our small class sizes, student rescheduling has a direct impact on our business. We appreciate your understanding! To get in touch with us on the weekend, if you're running late or need to cancel please text us at (206) 813-3319.
What to wear to class

Please wear close toes shoes and long pants. Hair nets and aprons will be provided. Please bring a hair-tie to tie back hair. Some of our more hands on classes can get messy, so dress accordingly!
Child Policy

Due to the nature of our classes, children under the age of 14 are NOT permitted in the Bean to Bar Chocolate Making classes and the Coffee & Chocolate Tasting Classes. Children under the age of 8 are not permitted in the Chocolate Bar Making classes. Children under the age of 18 MUST be accompanied by a ticket holding adult in all classes. Thank you for your understanding and cooperation!
Allergens

Have an allergy? Let us know in advance at bookings@raakachocolate.com
Gift Cards

Have a class gift card from pre-covid? Our booking system has changed, so please email bookings@raakachocolate.com to redeem your giftcard.
Additional Questions?

Please email bookings@raakachocolate.com with any additional questions! To get in touch with us on the weekend, if you're running late or need to cancel please text us at (206) 813-3319