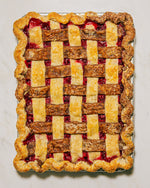 This slab pie is a reimagining of one of our favorite holiday bars we've made in the past, Cranberry Sage Pie—a harmony of familiar holiday flavors come together to create this stunner of a pie. This pie has cranberries, fresh sage, nutmeg, crystalized ginger, orange, and, of course, cacao. It's the marbled cacao pie base and checkered lattice topping that makes this pie truly one of a kind. Our fruity Tanzanian Cacao Powder is the perfect complement to the tangy, spiced, just-sweet-enough cranberry filling.
This pie is a celebration of togetherness as well as a celebration of the flavors of the season. This recipe is for a quarter sheet tray and can easily feed 12-15 people. For a half sheet pie, simply double the ingredients, noting baking times may take longer. 
Ingredients:
Pie Dough: Plain
2 cups all purpose flour
1 1/2 sticks butter
1 tablespoon sugar
1/4 teaspoon salt
~¾ cup ice water
Pie Dough: Cacao
1 ¾ cups all purpose flour
¼ cup Raaka Tanzanian Cacao Powder
1 1/2 sticks butter
2 tablespoons sugar
¼ teaspoon salt
~¾ cup ice water
Pie Filling
Zest of 1 orange
Juice of 1 orange + enough water to make 1/2 cup liquid
1 tablespoon fresh sage, minced
1 teaspoon ground nutmeg
1/3 cup cornstarch
3/4 cup sugar
 6 cups fresh cranberries
3/4 cup crystallized ginger, chopped
Crust Topping
1/4 cup plant milk
1/3 cup turbinado sugar
Steps:
Prepare plain pie dough. Whisk together flour, salt and sugar. Work butter into dough with hands until shaggy. Add water 1 tbsp at a time, until dough just starts to come together. Split into two balls, one ⅔ of dough, the other ⅓ of dough. Form the smaller ball into a rectangle, wrap in plastic wrap and place in fridge.

Repeat for cacao dough. Combine the two larger dough balls into one ball, marbling slightly. Form a rectangle, wrap in plastic wrap and place in fridge.

Mix together orange juice, zest, sage and nutmeg in a large mixing bowl.

Separately mix sugar and cornstarch. Whisk into orange juice mixture until dissolved.

Blitz cranberries slightly in a food processor, add to orange slurry along with ginger. Let sit for least 30 minutes.

Preheat oven to 425º.

Take your marbled dough and roll out a 16 in by 13 in rectangle. Place in quarter baking tray, edges resting over sides, and place in fridge.

Roll out small plain dough to 12.5 in by 6 in, cutting 5 long 1 in strips.

Roll cacao dough to 9.5 in by 8 in and cut 7 long 1 in strips.

Remove pie base from fridge, add the filling, spread out evenly, and then begin your lattice pattern.

Lay plain strips down the long way, evenly spaced out. Then take your cacao strips, one at a time, laying them down the opposite way, alternating over/under the plain dough strips.

Once all strips are laid down, press ends into the pie dough edge, fold excess pie dough from base layer overtop, and create a crimped pattern.

Refrigerate one last time for 10-20 minutes.

Brush plant milk over dough and sprinkle liberally with turbinado sugar.

Cover loosely with tinfoil and bake for 20 minutes.

Reduce heat to 375º, rotate pie, and bake for another 20 minutes.

Remove tin foil, rotate pie, and bake for 20-30 minutes, until crust starts to turn golden and filling in center is bubbling.

Remove from oven and let cool before slicing and serving.

Enjoy with loved ones!