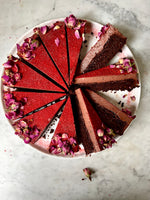 We're thrilled to collaborate with Amy Chaplin on this beautiful, delightful spring recipe. Amy Chaplin is a chef and James Beard Award winning cookbook author, who takes a creative approach on using whole foods ingredients to create recipes that are memorably delicious and nourishing. We have this in common with Amy when it comes to our chocolate making process, which is what makes our chocolate such a perfect fit for her desserts. Read on to learn about the recipe and get baking...
From Amy:
Dubbed by my friends as The Goddess Cake, this vegan and gluten free torte delivers an elevated dessert experience. It manages to be both elegant and fragrant while also fudgy and chocolaty. The maple sweetened chocolate gives the perfect amount of sweetness and provides an earthiness that plays beautifully with the delicate rose and kiss of strawberry. It's just the thing to make for the mother figure in your life.
As fancy as this looks, you can make this torte with relatively little fuss. Once you have the ingredients on hand, be sure to give yourself enough time for the cooling and setting required. Feel free to decorate each slice with either fresh strawberries or rose petals if they are available. 
Notes: 
Make sure all your ingredients are at room temperature otherwise the coconut oil will solidify in clumps when combined with any cold ingredients.
Here I prefer to grind my own oats to make oat flour. Grind them until as fine as possible in a spice grinder then measure as you would flour. You can use store brought oat flour instead but I find it creates a slightly denser cake—it's still delicious though!
Natural rose water has an extremely subtle flavor compared to regular rose water. Look for it in the beauty department of your health food store (check the ingredients to be sure it's just rose distillate). If you can't find it, you can use regular rose water but you'll need to reduce the amount in the cake to ½ teaspoon and to only a few drops in the mousse.
Be sure to seek out organic rose buds, as anything else is not edible. If you can't find them increase the rose water to taste in the mousse.
Serves 10
INGREDIENTS:
Gluten free chocolate cake
3 tablespoons ground flax seeds

½ cup unsweetened almond milk

½ cup plain apple sauce

½ cup maple syrup

¼ cup melted coconut oil, plus more to oil pan

1 tablespoon natural rose water * see note

2 teaspoons vanilla extract

½ teaspoon fine sea salt

1 cup almond flour (super fine)

¼ cup brown rice flour

¼ cup finely ground rolled oats * see note

2 tablespoons coconut flour

½ cup Raaka Cacao Powder

1 teaspoon baking soda

1 teaspoon baking powder

¼ cup unsweetened strawberry preserves, I use St. Dalfour
Chocolate mousse layer
½ cup raw almonds, soaked overnight in about 2 cups filtered water

1 cup unsweetened shredded dried coconut

¼ cup organic dried rose buds, plus more to decorate* see note

1 tablespoon maple syrup

4 teaspoons agar flakes

1 teaspoon natural rose water * see note

1 teaspoon vanilla extract

1 ¼ cup (5 ounces) Raaka Maple Dark Baking Chocolate

¼ cup freeze dried strawberries, crushed
STEPS:
1. Make the cake: Preheat oven to 350 degrees F. Line the bottom of a 9-inch spring form pan with a parchment paper circle and oil the sides; set aside.
2. Add ground flax and almond milk to a medium bowl, whisk to combine and set aside for 5 minutes. Add remaining wet ingredients and whisk to combine.
3. In another medium bowl add almond meal and break up any lumps with a whisk. Add rice flour, ground oats, and coconut flour then sift in cacao powder, baking soda and baking powder. Whisk to thoroughly combine then add to wet mixture. Use a rubber spatula to gently mix until batter is evenly combined—be careful not to over mix it. Pour into prepared cake pan and bake for 30 to 35 minutes or until a toothpick comes out clean. Set aside to cool on a rack.
4. Make the mousse: Drain and rinse almonds, place them in an upright blender with coconut and 2 cups of filtered water. Blend until smooth and strain through a nut milk bag (or several layers of cheese cloth). Compost pulp or save it for another use. Rinse out blender and set aside.
5. Measure nut milk to be sure you have 2 cups (if not add a little water) then pour into a 2-quart pot. Add rose buds, maple syrup and agar flakes. Whisk mixture then bring to a boil over medium heat, whisking frequently. Cover pot, reduce heat to low and simmer for 10 minutes or until agar is dissolved. 
6. Place a small-medium strainer over the upright blender and strain rose mixture directly into blender, pressing the rose buds to extract as much milk as possible. Add rose water, vanilla and chocolate. Use a rubber spatula to press chocolate into hot milk mixture to fully submerge. Cover blender and set aside for 5 minutes to melt the chocolate, then blend on until velvety smooth. Remove cover and wait another 5 minutes while you get the cake base ready—don't wait too long otherwise the mousse topping will begin to set.
7. Assembling the torte: Gently spread strawberry preserves evenly over the surface of the cake. Pour mousse topping over the strawberry preserves. Once the mixture has stopped steaming place torte in refrigerator for at least 2 to 3 hours or overnight until it's completely chilled and set.
8. Decorating the torte: The texture improves if the torte can sit out for a couple of hours before serving. Run a palate knife around the edge of the torte and remove the sides of the pan. Place the crushed dried strawberries into a strainer and generously dust the surface of the torte. Decorate the edges with rose petals and serve. Any leftover torte keeps for up to 2 days in a sealed container in the refrigerator.