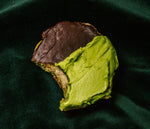 The Black & White Cookie is a New York City icon. We've paid tribute to it before, with our celebrated (if very difficult to make) First Nibs rendition. The pairing of creamy vanilla and dark cocoa icing is delightfully dramatic looking and a pure pleasure to eat. We've taken it one step further with our Green & Black Cookies, an homage to both the iconic cookie and our iconic (for us, anyway) Matcha Swirl bar. The vibrant green matcha frosting and marbled cookie creates a charming and colorful spin on the classic contrast, while our fruity Classic Dark baking chocolate provides a touch of complexity. This cookie is earthy, elevated and simply sublime. Check out the bottom of the ingredients for a Strawberry Swirl adaption!
Ingredients
1 stick vegan butter, softened
1/2 cup sugar
2 cups Gluten Free 1:1 Baking Flour (Bob's)
2 teaspoons baking powder
1 vegan egg
1 teaspoon vanilla
1/2 cup plant milk
Optional Cookie Swirl
Split dough into thirds, leave one ball as is, and incorporate the following into one of each of the remaining two:
Matcha: 2 teaspoons matcha powder
Chocolate: 1 tablespoon cacao powder, 1 teaspoon plant milk
Frosting
Matcha Buttercream
1 stick softened butter vegan
1 1/2 cup confectioners sugar
2-3 teaspoons matcha powder
Cacao Ganache
1 cup Classic Dark Baking Chocolate
1/4 cup coconut cream or creamy plant milk
2 teaspoons coconut oil
Strawberry Swirl Adaption
Cookie swirl: swap the matcha powder for an equal amount of crushed freeze-dried strawberries (or raspberries!).
Frosting: Swap matcha powder in buttercream for 1/8 cup pureed fresh strawberries.
Steps
Cookies
Preheat oven to 350º.

In a mixing bowl, cream together butter and sugar.

Add vanilla and egg, mix until combined.

In another bowl, whisk together dry ingredients, then add to wet ingredients, mixing until combined. Stir in milk.

Roll dough into 2 tbsp sized balls. If making swirl dough, take an even amount of each flavor, marbling the dough in your hands as you roll the ball.
Place dough on a lined baking sheet, gently pressing down to your desired size (cookies won't spread much).

Bake in oven for ~15 mins, until set and slightly golden.

Remove and let cool on the baking sheet.
Matcha Frosting
Using an electric mixer, beat together butter and sugar.

Add in matcha powder and whip together until fluffy.
Cacao Ganache
In a double boiler, slowly melt together chocolate, coconut cream, and coconut oil.

Take off heat once it's almost fully melted, and continue to stir until fully melted and thickened up a bit.
Assembly
Flip your cookies upside down.

Smear about 1-2 tsp cacao ganache over one half. Let set.

Use about 2 tsp-1tbsp of matcha frosting to frost the second half of the cookie.

Let set at room temperature, or in the fridge. Enjoy!